Scared about What Will Happen Next Time Google Comes Around?
Secret: Forget about Google Page Ranks!

ATTN: Recently Dropped Page Rank WebMasters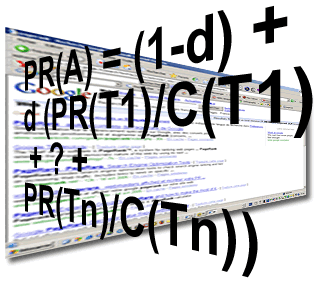 As you know Google has unleashed war on all webpages that have sold or purchased links. The reason for this is because Google does not want anyone trying to game Google! Google will always be Google and will protect themselves to help others out there to find relevant websites according to search terms. They will constantly update their algorithms if necessary to produce accurate searches.
There are many webmasters out there trying to game the 'Google', but why? Does it really matter? Does your Page Rank really put you above other search keywords in the SERPs?
Take a look at these recently hit websites:
| | | |
| --- | --- | --- |
| SEOPedia PR6 to PR5 | TheCrimson PR8 to PR4 | OneMansBlog PR8 to PR5 |
| AndyBeard PR5 to PR3 | AutoBlog PR6 to PR4 | Blog Herald PR6 to PR4 |
| JohnChow PR6 to PR4 | QuickOnlineTips PR6 to PR3 | SERouteTable PR7 to PR4 |
| CopyBlogger PR6 to PR4 | Engadget PR7 to PR5 | Forbes.com PR7 to PR5 |
| WashingtonPost PR8 to PR5 | SunTimes PR7 to PR5 | StatCounter PR10 to PR6 |
| JoyStiq PR6 to PR4 | SFGate PR7 to PR5 | ProBlogger.net PR6 to PR4 |
...and Many Many More
These losses are primarily a result of Google's continuing public relations campaign against paid linking. Such services as ReviewMe, Text Link Ads, Pay Per Post, etc are putting websites to lower page ranks because of such participation. Paying a top notch site to just host your link is against Google TOS.
Now the Question is:
Was your page hit with a page rank decrease or were you rewarded with a page rank increase? Most popular websites and blogs were hit with a decrease while others were hit with an increase in page rank. Were these considered rewards?
After the Google Raid, many are scouring for information on what to do and how to gain their page ranks back. Forums and blogs are all in discussions about what to do next. While some whine and cry to Google, others are just looking at this lesson learned. Many are just turning their heads and thinking of other ways to strategies their marketing of their website and blogs.

WHY! They SHOULD be Scared!

Here is a comment from a popular forum which proves to be interesting::
"but PageRank does not define site value or rankings in Google." or was it always a big fake? I've got that impression after years of on-page optimization noticing always a "strange" behavior/relation between optimization, PR and SERP results.
This caused a hysteria in the forums, emerging into blog posts and baby cries. Many others have turned this into a comical lesson. Others have even turned to other tools and ideas.
Google Bitched Slapped Report, will give you a basic introduction to page ranks and its main purposes. But the power of the report is using other tools and creating a more valuable page in which page ranks really does not matter! A new age for SERPs without the influences of Google.
Using the internet to a whole new level can help you make a better more reliable website in which Google CAN NOT touch. Your website is valuable and will continue to be valuable as long as you do not seek to Google Page Rank scoring.
Google's algorithm are continuously changing, which can put you below SERPs or even banished!
What will I Learn from the Google Bitched Slapped Report?
What really is Page Rank
The NON-Importance of Page Ranks
Page Ranks and SERPs

Gaining Page Ranks
Page Ranks are USELESS
Use Yahoo!
This 15+ report will provide a lot of heavy information on why we should not concentrate on Google PageRanks.
Give Me the Report! I want to know other Alternatives to Page Ranks for
JUST $7
!

Contact | Policy | Terms & Conditions | Affiliates | Earning Disclaimer
IANternet Media LLC | Ian Fernando