It is the first of 2008 and already I am running into problems with one of my goals. One of my goals or resolution is to print out or gather reports about top affiliate campaigns to promote. This way I can view them all at once and have a nice bird's eye view of them.
Usually I just look at the reports on my screen and decided right there and then if I want to promote it or not. I found it to be cumbersome and found relative campaigns on other networks with different stats also this may cause cross promotion as well. So I want to go ahead and print out the first couple pages of a report that would sort by EPC, Networks Earnings, Per Lead, or Percentage of Sale. If I can sort by these then I can print out and decide what I want to promote this month.
Well I ran into problems, only 2 of the 6 networks I am part of only provide good ways to sort and organize the advertiser's list into a way I can print and look over. NeverBlueAds and CJ.com are the only 2 that does this with ease. Below I printed the advertiser's list and sorted it by EPC, Earnings Per Click.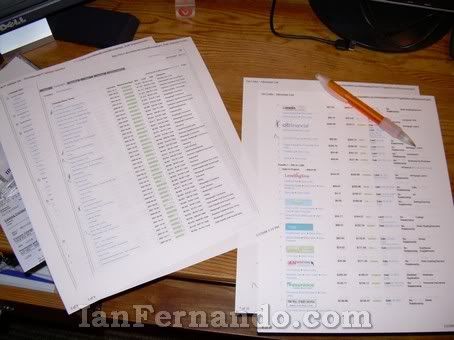 Since it is late and it is New Year's Day, I will wait till tomorrow to contact them on reporting issues. I am really more interested in the reporting of affiliate networks such as LinkShare and NeverBlueAds. ClickBank and PayDotCom are all digital products and usually digital products are all about first time buzz, so I promote/sort on popularity. Reporting on digital product networks would be good as well - I mean I am an affiliate marketer/entrepreneur and I need stats to determine what is good to promote.
NeverBlue Ads has such a great interface that I would just rather work with NeverBlueAds than any other network. I also contact my affiliate manager to see if I am able to export these reports to an excel format, giving me more interaction with the stats.
CJ.com lists all of their advertisers as well, but you will also need to sort by countries since a lot of the popular items are base in the United Kingdom. For right now I am concentrating on US campaigns, since I am still learning the GeoTargeting thing on Adwords.
Well I just hope I can get more stats especially from LinkShare - their reporting system is weird I think I may have to call them on how to work their reporting tool. Their reporting tool focuses on just your current promotions and not their advertisers list; it is also on a per month basis which is good I guess.