The best part about these conferences/conventions are the fact that you can eat for free. All this time you do not need to go ahead and spend money, bring like 50$ and you are good to go. Unless you shop and want to spend money but other than that you basically eat for free. This a very important for networks as it creates that intimate relationship with their affiliates. I enjoy speaking to other affiliates on the network and have a relationship with them.
I have been to lunch with Andrew, Benny and Frank, John Hasson and his wife. I have also been to dinner with Advaliant, CX Digital, and ofcourse my IANteract Dinner. These small private dinners and lunches are great for creating a great relationship with other affiliates. A small lunch or dinner is great networking. Interesting when I went to lunch with Andrew and everyone on Sunday, everything was closed! I was like WTF what closes on Sunday at 1pm! Well we finally found a restaurant that served some banging clam chowder. We really didn't eat that much, just talked.
Now to the dinners, first let me talk about the Advaliant Dinner. This dinner happened right after our fishing trip. This was another reason why I didn't want to bait my fish or maybe be actively fishing because I did not want to smell like fish. We drove out quite far from Boston to the fishing place and then farther out to the actually fishing place. Met a lot of interesting people on the bus and on the boat. But I do not recall the restaurant's name but the food was really good, except the fact my risotto was a little over cooked.
Michael from SlightlyShadySEO definitely destroyed his dish. He basically breathed in his steak. I personally got a type of fish which was good. I didn't want anything heavy since I got off a boat and I didn't know I how I would feel after I ate it. The only bad part about the restaurant is it took almost 3 hours to received our food, I was starving since I didn't anything on the boat. Not sure if it was the mass of people entering at the same time or the restaurant. Overall it was great and I want to thank Advaliant for inviting me on the trip and dinner.
The next dinner I had was with CX Digital. This network treated us to a place called KO Prime. The atmosphere was interesting as we went late in the day and it was dark with light red lighting. Pretty cool environment. I want to thank CX Digital for the invite as well. I learned a lot from the dinner as I was talking to an email spammer list builder and how he makes a living on just emails. They do say the money is in the list. But it was interesting to hear what he was saying. I am into email marketing but I haven't been too successful with it. I asked him some questions and shared some stats with him and he said my stats are great (on a low scale)! He showed me some tricks and testing to make sure my emails are getting opened and are being received. So I will make sure to take what I learned and apply it.
But to the dinner. The dinner was really good and flavorful. I ordered a $30 salmon dish. I actually took a picture of my salmon (via my iPhone) because I was surprise of the portion I received.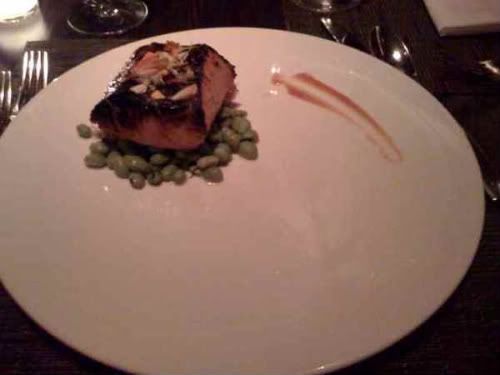 I wanted to know if they was something missing on the plate, it just looked too small. The presentation was ok I guess, since it was like a huge friggin white space with a minnow on my plate. The salmon was good though, with the little portion I had. Gabriel from AffSpy also had the little minnow as well. I twittered this picture and saw a lot of response, pretty funny.
So going to these conventions really saved me a lot of money on food and even transportation. There is very little need to even get a cab since networks will definitely stunt out and give you a ride in a stretched hummer. So what I am saying is traveling to these conferences are cheap and everyone likes to treat one another.
Overall I encourage a lot of people to start attending these events just the networking a lone is very powerful. I make sure I make use of the networking as much as possible. I try to talk to as much people as possible as well. Also creating that relationship with your Affiliate Manager can mean a free lunch or dinner or you eating out at a Burger King.