Last night I decided to go a head and join Entrecard. It is business card web 2.0 but in a poorly designed way. I was very curious as to what it can do for me and how it can benefit me. I see ProBlogger, John Chow, John Cow, etc using it. So I was thinking to myself "the Big GUYS are using it, maybe I should join." I am real hesitant to joining new groups when I do not read or find a single piece of negative post on a service. I even am more hesitant if I have to install a damn widget on my blog.
But in any case I decided to join and test it out. Well within an hour I already got pissed and found flaws with this system in which I do not know why others have not seen or found. I even was kind of piss they do not take animated buttons, and I never new a business card was a 125 * 125 button, not unique at all. I do not hate Graham for a good concept and idea, since he did a great job with the Million Dollar Wiki. Well let us first talk about what EntraCard is for those who do not know.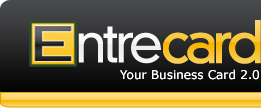 What is an Entrecard?
Entrecard is your business card 2.0. It's a 125x125 image which represents you and your blog. Its part advertisement, part business card. It comes with a widget you place on your blog, so that others can leave their Entrecard for you. You can also use Entrecard to promote your blog and launch free advertising campaigns.
Who is Entrecard for?
For now, Entrecard is just for bloggers who own and operate their own blog. Down the road we may open it to other internet Entrepreneurs who own and operate other websites.
What is the value of networking through Entrecard?
Entrecard provides a unique networking platform for owners of blogs. When you receive a card in your inbox, it isn't from Grandma checking up on her sonny. It is from someone who owns an operates a blog, just like you. Someone motivated, like you, eager to make connections, branch out, and do what it takes to find success on the net. These are some of your most valuable readers, because they in turn have influence over audiences themselves. So go forth and network in confidence that you are making the right kinds of connections.
Source: EntreCard Help
Now I will talk about the flaws that I think was poorly done and managed. EntreCard will still be on this blog for about 3-4 more days, because there are multiple users that have drop their cards already and are already being advertised. Well let me go into the scenarios as to why I do not think EntreCard is molded properly.
My Image Loses the High Quality Look
This is my original image or button or my entrecard. First of all entrecard does not accept GIFs which is understandable, so I just freeze my image and exported it to a JPEG. You can see that the image to the left is pretty high quality, but when I uploaded my image the quality turned it into a crap image, like someone from paintbrush made my button or exported it from paintbrush. Just look at the images to the left. So my beautiful GF file is turned into a crap bitmap wannabe image file.
I have tons of Requests in my Inbox (Outlook)
Once I have joined entrecard, within 5 minutes I have received requests in my Outlook inbox. I was getting pissy about this because I assume the email notification is defaulted to receive any type of card drop or notification. I did not like that, so I went ahead and disabled all notifications. I was kind of surprise to start receiving notifications within 5 minutes. Which leads to the next topic - they are not relevant at all.
I have TONS of non related cards or buttons - SPAM!
With all these notifications filling up my inbox, my dashboard was being filled with crap as well which are not even related to my blog. I am imagining users are just going to the marketplace or campaigns and just dropping their button/card. Which I find annoying because the reader base is not unique at all or are on a serious level as others.
I get comedy blogs, nurse blogs, music blogs, and SOME make money or marketing blogs. There are categories for business, marketing, make money online, etc. yet I do not get those. I get these pathetic websites that just want to be featured on a blog to gather more traffic. I hate these types of people and I call them spammers.
They have nothing else better to do than just drop their card to every blog to earn credits so they can advertise their button on another blog they would like to. The more credits you earn the better off you will when trying to advertise on a popular blog or website. You are spending your credits to get featured.
Time Consuming, but I cut around It
Stated above there are spammers out there that do nothing but drop cards into their account. They are basically wasting their time. When I started to drop my card with JohnChow and JohnCow etc, I realize 'wow' this is way too time consuming and takes away a lot of my precious time. So what I did was created a macro which gave me 50 credits in like 2 minutes. Creating the macro took about me 3-5 minutes to generate and it works fine. Then I just stopped at 50 credits, just so I can advertise on 2 websites (any). I did not care who I advertise on I just wanted to see this EntreCard system in motion.
Affiliate Marketing via EntreCard
Now, I was tempted to do this but I didn't. I was going to use a redirect for a sub domain and forward it to an affiliate program, but I didn't. But you can do affiliate marketing via EntreCard. There seemed to be no screening process for entrecard, but maybe that is just me because I like to think outside the box. But affiliate marketing can be done via EntreCard and no one would know about it. I may do it or I may not - I do not know yet. Evil Ian thinking =P
Inbox - What is the Purpose?
In my dashboard of EntreCard, there is a third column called Inbox, which I do not know if I am using it correctly since it just shows the banner of the person that is interested in networking? I am not sure if there is an actual inbox, I was not able to communicate with these users, which are interested in networking. Maybe I am just looking at this confusing dashboard (not that confusing once you get use to it).
My Final Call on EntreCard
Welcome EntreSpam! I do not think I will be participating with EntreCard soon enough. I will leave it on my blog for a couple more days and then take it off. The concept is great but the programming and idea concept and how it is executed can be done in a far better way. Example users that are in the humor group should not be able to drop cards with a car blog. It just does not make sense - I like relevancy and when I first started getting humor and music buttons I was getting a little annoyed that there are users out there that are going to abuse a good system and concept.
There needs to be some tweaking with EntreCard and limit drops because I was getting hammered with request and approvals, I wonder if this was the reason Shoemoney took his EntreCard off. It is time consuming to check everyday (logging in and out) and to drop cards. When I stumble on a page that has the widget I just drop my card. I do not tend to go through the marketplace and start dropping like crazy because I need points or just create a macro so it is not time consuming (but I did not abuse the system).
EntreSpam, is a great concept and great idea - just need some more tweaking and a way to not waste users time.