I was excited to see a lot of post about the environment, since today is Blog Action Day. Even blog gurus have blogged off topic today. I really enjoyed reading a lot of blogs about the environment; I saw some sites that I have never even heard of!
Well I have another digital product that I am releasing and I actually wanted to use ClickBank but they have told me to try again. Damn it! Well I have posted in my favorite forums what other clickbank alike are better. I have looked at PayDotCom, but I have not really worked with them and my affiliate commission from them is pretty poor, I have far better results with ClickBank.
But here is their email they have sent to me:
Hello,

Thank you for your interest in Clickbank. As we are having some problems with current vendors selling this type of product, we are not accepting new vendors for such products at this time.

Best of luck!

Sheri
Clickbank Review Team
Thanks Sheri! For nothing.
I started to go to my favorite forums and see if there is another payment processor with an affilaite system. I heard of PayDotCom, but I am really not that proud of PDC since my affiliate commission is really not that great, my ClickBank commission is far better. So I am a little hesitant.
Since this is a rambling, my Facebook Advances is doing great! I also noticed paypal increased their damn fees! That pissed me off a little bit, but hey I am getting paid no problem.
My eBook has an affiliate system as well, where you can earn 100% commission and you do not need to sign up either! Just use this affiliate link to promote Facebook Advances: http://www.theianternet.com/facebookadvances/?e=PAYPALID
That is it.
Blog Contest
Tomorrow is the last day for the Blog Contest and I wish everyone good luck and thanks for participating in the contest! Tomorrow will be the last day for the contest, so go ahead read what you can win! Also you can improve your chances of winning by simply just subscribing to my RSS.
BTW Brian has released a new theme, Magazine and it is crazy nice. Too bad I was not able to get it in the competition.
Also for all the people that have participated in the Contest you will not leave empty handed as I will be providing you a gift, once the contest is over! 🙂
Audio 3 of 12 Month Millionaire: Delayed
I have not listened to Audio 3 of the 12 Month Millionaire I have been busy as you can tell from my blog. So I will not be able to post about it tomorrow, I should be able to give you 3 and 4 the following day.
Hopefully, I just need to re organize my marketing plans and structure it a little bit more.
DealDotFree - Bah Updates
It is hard to keep up with one blog, but 3 MAN! I even stopped writing on my technology blog just so I can start getting my digital products out and plan my marketing etc etc. I have written short posts but not published them as they are not complete as to what i want them to be, but how much can you write about afree item when they have their own description section?
DealDotCom Plunging!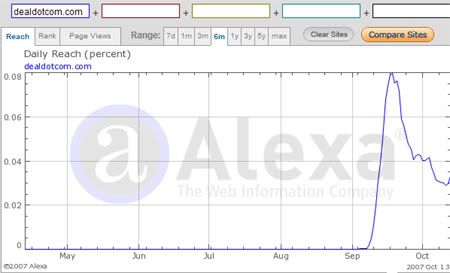 Doing my regular routine of marketing research and reading information off the internet I noticed DealDotCom has submitted their Top Secret Affiliate Product on IMNewsWatch.
I regularly check IMNewsWatch for new Marketing answers or webinars <- which I have not joined in a while. But DDC is falling off - it seems the buzz is gone and no one ever heard of DealDotCom anymore.
This shows and proves that Internet Marketing Niche is HARD! DealDotCom is competing for traffic sending their info to IMNewsWatch, which I think this is the first time that they have done.
Good Night!
Well that is it for tonight!