Within Facebook there is something called a news feed, mini feed and status. These 3 things are really helpful since it provides free exposure to all your friends within your networks. Each one provides a good feed back of what all your friends are doing as well; what website your friends viewed (widget required), who they became friends with, what their status is, etc. These 3 things prove to be very helpful for exposure.
Since Facebook tracks all of your activities - your whole network knows. It is like a form of gossip, which is why I think Facebook is very popular. Ian visit this website, Ian is friends with ..., Ian is in a relationship with..., etc. This form of communication is pretty viral, it is digital gossip. As we know, traditionally, gossip is bad. With Facebook I think its great!
The best form of advertising is by word of mouth - so Facebook fixes this problem by simply just gossiping about you to all your friends. If your friends are interested with the specific gossip Facebook provided to them they will tend to try to see what you did. With that said let us talk about the 3 gossip attributes Facebook implements.
Dissecting the News Feed
The News feed is your access to what everyone is doing. Who became friends with who, who changed their profile picture, who updated their blog, etc. The news feed is great because you can see what others are doing. Take a look at the screen shot below.

If your name appears in this screen shot and offended by it in any way please let me know as I will adjust it for privacy reason if necessary.
This is your main window once you have logged on. From this screen shot I can see that one of my marketing friends "Jim Kukral" recently became friends with Jeffery Eisenberg. Usually I will most likely view their profile because to my mind I assume Jim is making friends with other marketers and I want to see if so what they offer as an internet marketer. This specific is my own window - giving me a bird's eye view of what my network is up too.
Dissecting the Mini Feed
The mini feed is a public view of what Ian (or yourself) is doing. This is great because it tells you your activity to the public and all your friends in your networks. Screen shot below: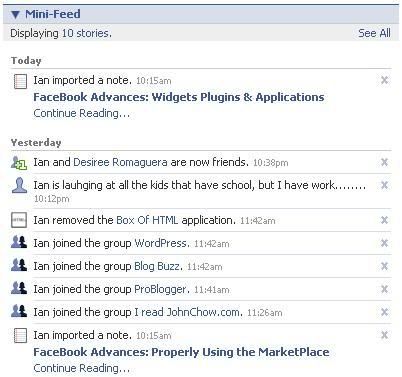 If your name appears in this screen shot and offended by it in any way please let me know as I will adjust it for privacy reason if necessary.
This mini feed tells everyone your details, what you just did, who you recently became friends with, what recent post you have done, etc.
From this screenshot you can see that I recently imported a note (it is automated by the way via RSS import). This shows to everyone that I posted a new post on my blog and if clicked they are directed to my blog, free traffic. So anyone that views your profile will see your activity, with social communities becoming so popular its all about what the other person is doing.
Another activity I did recently is I joined several groups and tested and removed some plugins. This becomes interesting to other marketers that are within my network, they will either join or see what it is all about before taking any action.
This mini feed also is broadcasted to everyone's news feed, so when a user logs on they see their news feed on what everyone of their friends have recently done. If you show up on their news feed and its something that catches their attention, then you gained an extra source of traffic.
I tend to be interactive within Facebook, view groups, comments marketers blog, import posts from my blog, enter something new in the marketplace, etc. Staying active shows and provides you more exposure to your peers and friends.
Dissecting your Status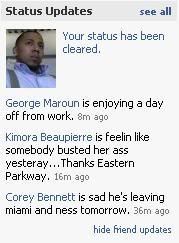 I like this a lot because I can say whatever I want and everyone see it within their news feed. When I watch "The Next Internet Millionaire" I change my status to "Ian is watching The Next Internet Millionaire at affiliate link here." This link is in text and does not turn into a hyper link, but if one of your friends are curios they will copy and paste the link and check it out.
Your status can be about anything, Ian is updating his blog, Ian is bored, Ian is creating a video about himself, Ian is ..... It can be whatever you want. This is a great tool to create your brand. Using it to optimize who you are can really create a great group of friends. Ian is creating a marketing product for wordpress. This tells everyone that I am busy and working on a project, this as well creates curiosity. What is Ian making, what kind of plugin is it? etc.
For now my status is cleared, I had an old status saying "Ian is piss at Google" - one of my marketing friends actually wanted to know what happened. That is another post to be talked about.
Conclusion
Using all these feeds and updating your status gives you great exposure to your network. If you create that curiosity you will get clicks to your blog or site and your profile will be viewed more and more. Just make sure you interact and interact within the Facebook community.