Facebook has so many applications or widgets or plugins, you know those things that you can buy a round of beer for everyone including me! These plugins within FaceBook makes this more unique and more interesting than MySpace. There are widgets that will help you earn money and others that you easily let's you post your mood.
But let us concentrate on either getting traffic.
First plugin I use is BlogFriends. This is a great plugin to network with so many other bloggers and facebookers.
Benefits of Using BlogFriends:

Track your friends blogs
Track your friends friends' blogs
RSS feed right on your main page (exposure)
Extra count for FeedBurner Stats
Here is a screen shot: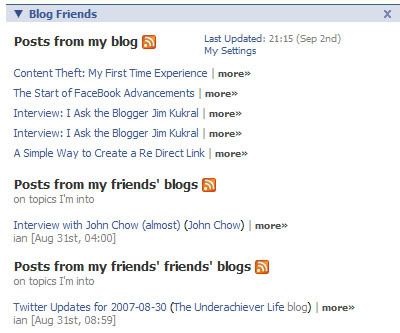 BlogFriends easily creates a feed window on your main page and publicize it to your friends. The best thing about BlogFriends plugin is seeing other friends' friends' blogs - I like this because I can view other blogs that are within the same network as I am.
This plugin was created by, Luke Razzel. Before his release it was in an alpha state testing and now I think it has improved in many ways from when I first installed it.
The Obvious gives a small description about Blog Friends:
Blog Friends lets you track blog posts by your Facebook friends on topics that interest you, display those posts on your Facebook profile while they help you grow your blog readership for you in return.

The other nice thing is that RSS feeds are available for the Blog Friends sections in your profile...
I was invited by Darren to use BlogFriends, and there is so many potential with using this. The drawback I think is my profile is more of personal use - so I did not invite all my friends to use BlogFriends as they do not have a RSS feed site (blog).
Blog Friends works with RSS feeds to constantly update, even the updating is not real time it updates once a day (from my experience). So if you post 3 post and it updated when you posted your 2nd post your third post will not be updated within your FaceBook until the next day.
Add the FaceBook Widget: Blog Friends
Using the Built in FaceBook Notes
In conjunction with BlogFriends I use notes, its a built in application within FaceBook where you can post a note about a website or about anything. But I love Notes because it auto updates everyones' mini feed once there is a new post on my website. So instead of saying I updated my blog, notes automatically does this for me.
Once you go to My Notes, you can easily navigate to "Edit Import Settings." This is where you will enter your feed address. It automatically imports all your blogs post to everyone, especially if you have a new post it will provide that post to everyone within your network. Free exposure.
I like this more so because it provides an update to all my friends within my networks. They can see what I am up to and learn from what may interest them.
Since I recently provided my readers with full RSS feeds, Notes and Blog Friends will show the full feed to your friends that decide to read it. Also this also increases your FeedBurners stats by 2, because one is being use for Notes and the other by Blog Friends. The key to my full feed is I provide related content at the end of each post, so if they are still interested in reading they will be directed to my blog.
If you do an application search for "Blog" there are tons of RSS plugins and other types of applications to use for your FaceBook main page. Here are other ones that I think are worth looking into:
WordBook: WordPress to FaceBook
Update your Facebook Mini-Feed and your friends' News Feeds whenever you publish pages or posts from your own WordPress blog.
Facebook Photos Plugin for WordPress
An open source plugin for WordPress that allows you to easily blog your Facebook photos.
HotBlog
HotBlog is the most awesome blog app available on facebook! It looks great in both the left and right areas of your profile, and HTML is allowed! Blog with photos, stylized text, and more in just a few clicks.
Live Blog
Live Blog is a simple and easy to use blog, yet introduces powerful features like setting your mood, location, and music. It supports HTML and Youtube videos, so you can express yourself with images, words, and music! Unlike Notes, the whole entry is displayed on your profile. Works in both the left and right sides!
HTML Box
Allows you to add anything to your facebook! Have a static picture of your cat, maybe a banner to your website! Who cares!
Flog Blog
Flog allows you to quickly and easily integrate an existing blog into your facebook profile! If you have a blog, Flog makes it simple to increase your visibilty and share your content with everyone on facebook. A built-in full page "reader" that is linked from your profile allows your posts to be displayed without having to navigate away from facebook, but also contains permalinks back to your original blog to increase your traffic.