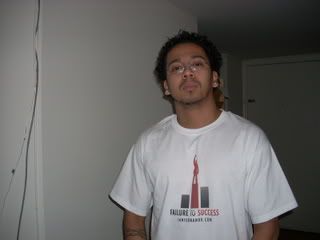 I just got my t shirts from a good friend who is now a full time entrepreneur and running his t shirt venues, DedTees.com. It is a good thing he is local and I finally received my t shirts to hand out at Affiliate Summit West 2008. I have about 24 shirts - I really didn't count them as of yet but that is what I ordered. I ordered a mix of 3 sizes: M - L - XL, so I have a good amount to give out at the summit.
Here is a quick snapshot of my tshirt that I ordered, damn I look 'hella brolic' in my t shirt. So this is the design on the t shirt as I have showed you guys in the past. The colors are a little dry but the image is embedded in the stitching which is what I wanted. If I bought a screen print, I do not think I would have handed them out. The t shirts came out really nice, better than ordering online since he is local.
While Eric was here, he gave me some more pointers on my business and what I should be doing. I discussed with him some of my recently loses and he simply turned it into a positive, giving good feedback and information on my situation. Since he has quit his job I can take advice from what he has been through, he is an experienced entrepreneur.
I know Eric when I first started at my current job, he was my proctor in my class. He taught me the basics of our company and what the company does as a whole, explaining the services we provided to our customers etc. From then he stayed at his job and now is self employed with 2 employees under his belt. Great work!
Delay in Videos:
Sorry for the delay in videos I have been really busy with so many things, here is a quick recap of what I have been doing, my rambles, couch classroom, etc.