Mark from 45n5.com has posted a great post and video on Geo Targeting and how most bloggers or writers do not talk about them. Now and currently Mark is creating a great program called NoFollowAds.com which will incorporate Geo Marketing. I am really excited to see this program come out and I want to see how it will work out with banners ads etc.
With internet marketing and so many make money online websites, Mark puts out a good point. No One is talking about GeoTargeted Marketing. Is it because most of the traffic are from the United States and only a small percentage come from over seas? Hmm this got me thinking, I rarely look at my geographical location stats since I see the United States in Heavy Green and every where else is light green, meaning there is some traffic but not major. Well I took a look at my geo map and I was surprise at my traffic sources.
My Traffic Geo Marketing DashBoard via Google Analytics (click to enlarge):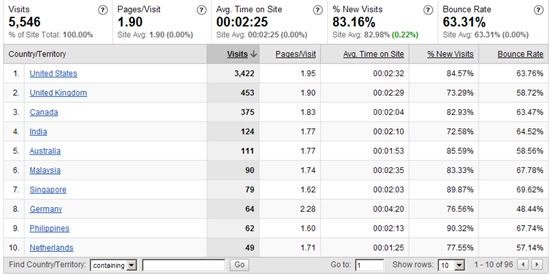 Those numbers look very interesting to me because the number of visitors from overseas are all above 10, I wouldn't really care if it was less than 10. Also these readers are staying on my blog and reading my posts, staying for more than 2 minute and visiting almost more than 2 pages! Another good factor is the average bounce rate is below 65%, this is very interesting and I need to start to look into my geo traffic and alternate my banner space or my advertising.
Clickz.com has a great post on GeoTargeting and Why it Matters.
Knowing your customers' locations can open up a whole range of advertising options just not possible otherwise. Serving price offers by region, offering local coupons for brick-and-mortar stores, testing offers in different parts of the country... all these require knowing where people are.
With this new audience in my mind "How can I help make my blog be geo friendly?" I have decided to look into blog trnslation plugins and look forward to Mark's NoFollowAds Script. I will also look into feedburner translation for my geo rss readers. Since most readers now a days look to their RSS reader for quick information and strategies, it is more simple than email.
This is a big mistake on my end and I failed to realize there are other readers outside the United States and they too want to learn how to make money online. The United States may have more websites than other countries (not sure, guessing here) so this means there is limited opinions on learning how to make money online for readers that are overseas.
So this means I have been using my ad space very poorly, especially for the amount of international traffic I am receiving. I could have been rotating ads specific to a countries language and maybe get possible commission from affiliate networks. It is a good thing adsense does this automatically, but I dispose of adsense on my blog. 🙁
With this amount of traffic I think it is safe to say I should think about other entrepreneurs that want to learn to make money from the internet. It is in my best interest and others internationally as well.