Upon writing up and introducing why I think newspaper and magazine styles will be the year for blogs is because WordPress is so versatile. It is not just a blog platform, which for some reason everyone thinks it is. WordPress is a great CMS platform; you can read on how I chose the best CMS platform here. The stereotype of WordPress for blogging is absurd; I started to use an article directory cms for my first blog. All a CMS is add content and generates the page with a default template. All we are doing is adding content.
Most users are so accustomed to WordPress as a blog platform and do not understand the power it can hold. Multiple users and programmers are testing the strength of WordPress on a day to day basis. New plugins are created on a day to day basis as well as powerful more interactive templates. With that said I have found some great new newspaper/magazine style templates. These templates are rarely used and seen, but these specific templates shows the potential of what a WordPress platform can do and handle.
My first favorite is Brian Garnder's Revolution New Theme. I have the sports version and I have customized it with Brian's help as well. I wish I kind of waited longer because I want to trade or switch to the Technology theme, but I love the theme otherwise. The design is template and the code is very easy to navigate through. After the release of Brian's Revolution Theme collection, more and more developers have gone a head and designed several of their own, which you will be able to read below.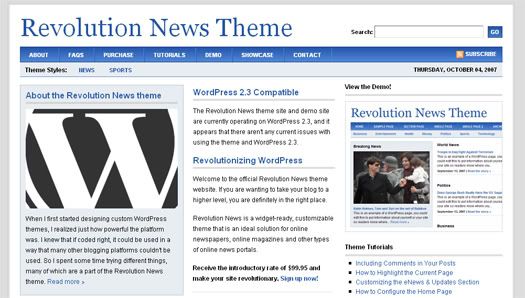 Michael Pollock is another great web designer; he recently designed a great magazine theme called Wp-Magazine Theme 1.0. The name is really not that original but the organization and skills in this template is very organized and simple. What I like is the auto scroll of featured articles, which is a really cool eye catching technique. Very Nice. Overall it is very organized and interactive, the layout is very clean and the color is soothing for the eyes.
Michael also created WP-Glory, which is another newspaper themed layout. This layout auto stretches with the window size, which to me is not very professional. I like fixed templates and designs, having it stretch or resize itself is not to my liking. BUT this theme has a lot of nice features: interactive tabs and interactive archives and category drop downs. The layout is very neat and banner positions are carefully structured to be in perfect synchronization with the layout.
Below is another one of Michael's creation, Solostream 3-Column 1.0. This theme is very similar to the Wp-Glory above, but with the exception of auto resizing the template and locations of archives and category. Again a popular among newspaper/magazine themes is the interactive tabs - switching form specific content to another.
Another great freelance designer is Addi, he is the creator of a great news theme called Premium News Theme. This specific theme is really interactive and has a lot of great interactive 'sticky' appeal to it. There is an interactive tab for featured articles, bas on images. There is a cool ajax drop down on the bottom right when seeing archives and categories. There is also a nice interactive latest video section on the main page. This theme is really beautifully made and appeals to me very much.
Nathan Rice and Cory Miller teamed up and created a beautiful 4 column newspaper/magazine style template. News Pixel is a well organized, closely tight themed layout. There are great features that I like about this layout: the side notes and again with the interactive tabs, this time relating to comments. I also enjoy which I believe is the 2 featured sections, or maybe one is categorized and one is obviously featured.
ArtCulture is currently using their magazine theme. The theme has a BIG look to it but it really isn't big when it comes to text and tight design, the color diversification is very appealing to me and I like the footer where the categories and other links are located. Another great aspect I like about this theme is the recent posts; it seems they are 'boxed' in, making it unique. The theme is very relaxed almost feels like I am in a coffee shop when I first saw this template.
CornerStone Theme is a nice balanced magazine style layout. This has a nice feel for a standard blog, since I feel it still fits the blog nature but the layout re categorizes it as a magazine style layout. The nice re/maroon color really set this design apart with its dashed border line. The only strange thing is the interactive tabs are located at the bottom, otherwise the design is very pleasant.
Wp-Remix is definitely living to its name. There are currently 6 options of how you can have your design fit your needs and desire. This design is highly customizable from what I see from their website. This template uses interactive tabs as well and has a ton of options on how you want your blog or website to appeal to others. Wp-Remix is really a remix of how easy it is to customize a layout to your desire.
Conclusion:
There are multiple premium newspaper/magazine style themes that are out there. All which have their own uniqueness and appeal to it. All these themes are very creative in their own way and have a nice way of making them sticky. As we get use to 2008, what will the blogging world be filled with? I am currently using WordPress as a nice CMS platform and using more and more of these premium templates. I find these types of templates create a more social community and interaction with readers.