WordPress is an amazing platform. You essentially can turn it into anything you want instead of a traditional blog or website. Some simply post contents and articles based on their interests, but some maximize its marketing power to create something that allows them to earn money as well.
For me, I have several sites besides this blog which helps me earn income. Today I am going to talk about a Coupon WordPress Theme which is very easy to get started almost immediately.
They are all either script sites, review, or even mini blogs which can help increase my flow of income via the internet. Have you ever heard of "don't put all your eggs in one basket?" This is the same concept.
One site, AppThemes has themes which are actual scripts on their own. It utilizes the power of WordPress to create an amazing theme which does more than blog.
One theme or application theme as they call it, is the Clipper. It is a coupon management software for WordPress that bloggers and other online users can easily avail. This theme is built to make way for coupon collections since it has becoming a popular online business today that everyone can engage to.
Coupon clipping is becoming a trend and is one of the most talked about items in the online market which adds to its potential of being a developing business since it is assured that your site can have a huge marketshare. This engagement of people alongside with the building of your coupon collection will definitely result to the monetization of your website. It also has spaces for ads that can further add to your profits.
If you have ever seen the any of the coupon sites then you know that there are a ton of users which searches for coupons online. I bet you yourself have searched for coupons when buying a domain or finding a new server.
What if you can harness part of that traffic for your own. With Clipper a popular coupon app theme, you can easily just create your own. All you have to do is provide the coupons to the end user and that is simply with datafeed technology which you can get from an affiliate network such as ShareaSale.
This theme is all setup for quick installation and quick use. All you literally have to do is download, install, change theme, add coupon content, done. There are several attributes to this theme as well:
Cloaking and Tracking: Tracking which coupon does well is key. Any type of data you receive from the internet as a marketer is important and knowing which coupon works better is also key. You can see which is the most active coupon and used coupon to promote that coupon more over the others. With Clipper's own cloaking technology, affiliate links can deter users away. By simply cloaking it to your own domain name means you can actually influence the end user more on clicking the coupon code and earning a commission.
User Ratings: Social influence is important and it is the reason why other coupon sites are successful. Users who have used the coupon are also letting other newcomers know if the coupon actually worked. This feedback of real user interaction makes this theme very powerful. User feedback help influence other users, it is almost as if they want to let users know this coupon is working or if it is a 'dud' coupon.
Social Integration: With the user feedback, social integration is also utilized with this theme. Sharing a coupon will help increase the traffic to your coupon site as well as recognition of your coupon site. Users on Facebook and Twitter will help showcase the coupons your users are using and help others find the perfect deal for the item the consumer just bought.
Dedicated Blog: With any site, content is king. This means that you are competing against all the other coupon sites out there. What makes this unique is the fact you can start writing about why a coupon is special, increasing your rankings for a specific coupon code for a specific item. Having content is important because you do not want to look like al those other coupon sites, you want to be unique. Having content can help you stand out among the coupon sites out there because not only are you providing coupon codes, you are communicating with the internet about special offers.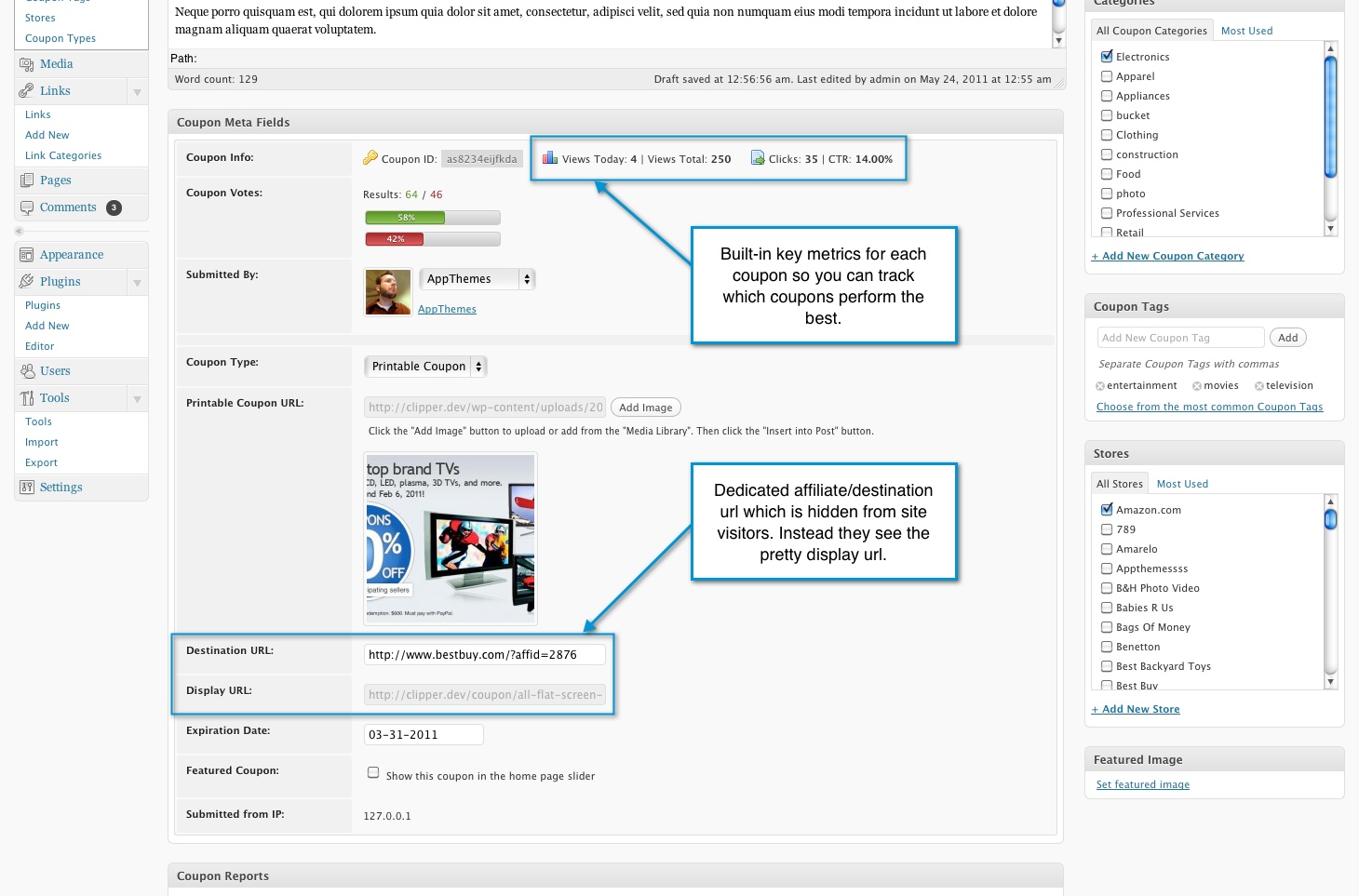 This is just one of the themes, AppThemes has in their arsenal. I even spoke about you can create a craigslist clone with a craigslist WordPress template. AppThemes, has a solid framework for the "service site" you want to mimic. If it is a job directory, a ticketing system, a job listing, or others, AppThemes has it.