So I got out of a meeting, yes I still work ...sighs...
But the meeting proved to be a very good meeting because out of the ordinary meetings I was actually interested and some what participated. The meeting speaks of marketing, yes! So I paid close attention to what our VP had to say about marketing and trying to get a broader target market. I was intrigue because it seems everyday marketing is a repetitive task. A task that requires daily studies and research to find out what works and what does not.
So after the meeting I found some sites that went about describing what I learned within the meeting. First the meeting spoke about the 4 P's of marketing. They are Product, Price, Placement or Place, and Promotion. It all makes sense since you do need a product or service with a competitive price in which you need to promote in a specific place or area. This also works for online marketing, though the meeting was more on the off line marketing genre I thought of how it can help me with online marketing.
Below is an overall image of how these 4 P's can help find that target market. This image and a good article on these 4 P's can be found at Marketing Mix.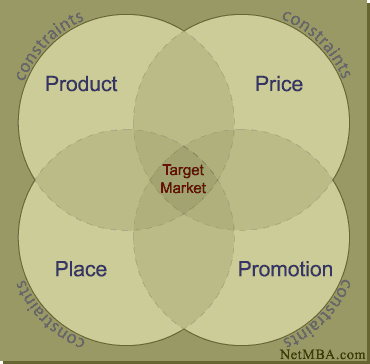 So let me go ahead and talk about these 4 words that begins with a letter P. =P
Product
The product is the physical product or service offered to the consumer. A service or product that will help others. It solves a problem and is needed to a vast majority of people or users.
The product aspects of marketing deal with the specifications of the actual goods or services, and how it relates to the end-user's needs and wants. The scope of a product generally includes supporting elements such as warranties, guarantees, and support.
Pricing
How much will it cost to create this service/product? What is the retail value of such product? Will their be any discrimination against pricing? Pricing decisions should take into account profit margins and the probable pricing response of competitors.
This refers to the process of setting a price for a product, including discounts. The price need not be monetary - it can simply be what is exchanged for the product or services, e.g. time, energy, psychology or attention.
Promotion
Promotion decisions are those related to communicating and selling to potential consumers and or users. How will you reach your audience. What kind of brand do you want your product to be perceived. Will you reach to the internet? Will you reach to offline advertising?
This includes advertising, sales promotion, publicity, and personal selling, and refers to the various methods of promoting the product, brand, or company.
Place (distribution)
Distribution decisions include market coverage, channel member selection, logistics, and levels of service. What areas do better than others. Would the population play an important role?
how the product gets to the customer; for example, point of sale placement or retailing. This fourth P has also sometimes been called Place, referring to the channel by which a product or services is sold (e.g. online vs. retail), which geographic region or industry, to which segment (young adults, families, business people), etc.
BlockQuote Sources: Wikipedia
In Depth Reading on the 4 P's of Marketing 
The 4 P's of Marketing
Wikipedia: Marketing
ABC Small Business