As you can see this is a new and improved layout! With my readership growing I have been giving a lot of opinions about my blog layout. I have tried to defend it because the theme is so perfect and me as a web designer feels it is perfect for a blog that has continuous updates. Other readers/bloggers feel it is not in their comfort zone and have criticized the layout. What does Ian Fernando do? I go on a mean spamming spree, I spam all the users that have left negative feedback to me by just attacking their inbox.
No, not really...
But I did listen and I found a new layout for my readership. I have been a fan of Brian Gardner's theme for quite a while and my blog was very successful with Brian's Silhouette theme. I just love 3 columns templates and templates with interaction. I found the standard blog layout of the silhouette was great starting out as a blogger. But as the blog grows there needs to be growth within the blog itself, so I got a new theme. You may notice some things off a little on my new blog layout but everything should be working well.
There are some things that I have moded to better my use for my blog, but the theme alone is beautiful as you can see. This is a great template just because I can add boxes of sections; it makes it more neat for my readers.
The biggest complaint I have received from my new readers is where is the new content? John Cow has even told me the middle column is the column where he and probably most users go to find new content. Basically the fresh content does not stick out. Even though I have moded the New Revolution theme to fit a blog atmosphere, it did not please some of my readers. This is true a lot of readers look to the middle section for content as so many readers are use to a 3 column template with content right in the middle.
I have always designed websites from left to right. My thinking for this is we read from left to right, but it seems not a lot see it this way. With the request and a lot of feedback I look to Brian Gardner for help and found his beautiful theme.
As I have probably stressed out, layouts and web interaction is important in our Web 2.0 growth. As time stresses out the web users want to interact more and want better access. Brian Gardner has solved these situations with his unique premium themes.
Before I actually went to the Revolution theme website, I was searching other websites for premium websites. After no luck of what I wanted I decided to stumble on Brian's Revolution theme and I just fell in love with the 2 new themes he has. The only reason I never went back is because there were multiple alternations of the Revolution Themes, that I figured all the themes would be similar - I was wrong!
Brian has totally re-done and re-made his revolution website. Brian has out done himself and his website and themes continue to grow. He has proved to beat the competition by adding a tabber to his Revolution Pro Media theme, which IanFernando.com is currently using. As you can see from the screen shot below, the revolution theme is very neat: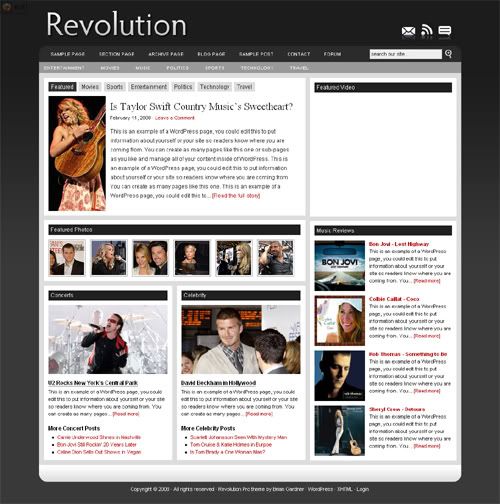 As you can see there are domtabs at the top, creating a great interaction with the user, putting the source of information right in their face. This is good because it sticks out. I have adjusted the first tab to have all my fresh content instead of specifying it to categories. This theme gives the user a relaxed fit, just look at it. With the new adjustment in the template you will see more pictures on the front page, giving it more of a magazine style feel.
Also, some of my pages will be adjusted with new layout images for advertising and I have added a new ad post on the front page, but within domtabs. This specific layout can be minimized with small uses or extended with multiple uses. As you can see from my front layout there are a lot of things a user can look into or with the original the user can simply be satisfied with the ease of the template and navigation. With the old News Revolution Template I was stuck on 3 columns and really could not do much such has have a more attractive Flickr album or Ian Fernando TV at the top of the template, giving users better access.
As I have stated I have moded this theme a little bit just to give it 'a blog feeling' and give it a web 2.0 feeling as well. You will see I still have live recent blog posts, giving you the newest one right on the front page of the dombtabs and right below of the flickr album, giving my readership the ease to see what they have missed the day prior. I also gave the reviews category its own little section because I feel reviews is a personal touch to a blog, it is my opinion on something and it also creates a stir. 🙂
I will show you the revolution tour of my blog (video below) and I hope this has greatly benefited my readers as it has greatly benefited me and my blog. Thanks Brian! Check out Brian's full collection of Revolutionary Themes.
If you find any issues with the theme or you find something not working or something is not compatible please let me know, I will be test driving the theme from now on.