For some reason I have been noticing some lag time on my blog. Not too sure if database access or WordPress itself. So what I did to make sure it was not just me I decided to test it on another server. I went to Pingdom.com to see what my stats look like.
I did not like what I saw, my website loads at 4.5 seconds. Is that optimal? I did not think it was, I want my blog to load right away. I am a web designer, I wanted it to load right away!! Pingdom showed my website loads at 4.5 seconds, I guess that is fine. But stats say if a user does not find what they want in 20 seconds, they divert away. I did not want to give any user a 5 second delay because of my load time.
Well here is my result from Pingdom 4.5 seconds! I rotated the image to get a better view.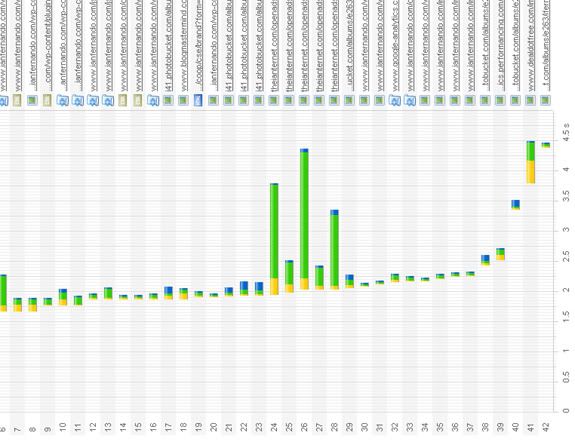 Load Time may differ, this image is unique to the time of running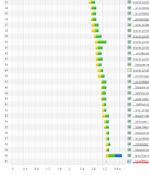 I decided to look at other new designs and compare their speed with mine. First Darren from Problogger was the first to start this web design upgrade craze. I mean the day Problogger released his new web design, everyone slowly followed. So I decided to post his load time.
Just click this image to the left and you will see a bigger more full version of his load stats. Darren's load time is far faster than mine his full blog loads within about 4 seconds, a little under my load time. Nothing form Darren's blog really stuck out that would delay his load time. I would think his blog would take longer to load but I was wrong, maybe if I run this test a couple more time I can make his web page load longer.
Next I tested out Jeremy's blog, ShoeMoney. His blog loads just under 7 seconds! But its his BIG ADSENSE Check image that takes a while to load. I guess its that big a mount of money that is taking a while to load, big check slow load times.
Nothing really stuck out as well with Jeremy's blog. Most of the delay came from the images that are within his sidebar, especially that Adsense check, I mean that is a big check, maybe that is what is causing the delay and lag times. It seems most of Jeremy's images are what is giving it some slow time, other than that everything on his page loads smoothly.
Now, John Chow's Blog. I wrote a mini review on Mr. Chow's Blog new redesign and I pointed out load time as well in that post. There seems to be no change, but a small improvement. Instead of 16 seconds, now it is set at 9 seconds. That is a great improvement to go from a high load time to a more less load time, though I think it is still taking some time to load.
This is a very big improvements, as John Chow has made some improvements to his design by Nate. Again it maybe the images which may be causing the issue or maybe a WordPress database issue? But John really needs to try to fix his load time just a little bit.
What about IanFernando.com?
As you can see these great bloggers have some load time higher than mine, so why should I care? Well maybe it is the web designer in me, I want it to load faster! I optimize my database all the time almost every week, usually after every weekly backup.
I will want to try to make the load time on IanFernando.com load faster, maybe get rid of some plugins, some javascripts, some coding? Maybe less images? The graph did not show anything that can be improve, my images are being hosted on Photobucket and external big files are being hosted on other external servers. This saves some bandwidth when my websites are being loaded.
I personally do not think my load time is that bad as the bigger guys are loading more slowly, I do not know if they maybe using plugins to help their database speed up? I will be on the look out for optimizing plugins for WordPress. I mean my 4.5 seconds is whack!