This morning I was notified by the all popular Cow about a new service which will provide you RSS readers! If your RSS reader subscription is low, just pay for fake readers. RSSXplosion a new service which you pay for RSS readers, hmm does this remind you of BuyBlogComments?
Again who would do this and why would someone pay for fake readers? RSS readers are for readers who want to read your website from a non website platform for ease of use or read a small synopsis before going to the actual website.
JohnCow.com has done some research on this and found a lot of interesting things about the service. I have went to the homepage and found some interesting things as well, like Mark from 45n5 and John Chow leaving testimonials about this service? I do not think they would find this service ethical because it will not be to their advantage.
To the left you can see the so called testimonial, but these quotes are from the authors' post within their blog. I do not think Mark, John Chow, Hari from Got Chance would approve of this.
I doubt they would want their name associated with such pathetic service. This is becoming a problem within the blogosphere, who want to pay for FAKE readers and or commenter? This type of service provide no value to other readers and the author himself. It just shows an increase in numbers.
Also, this will definitely hurt someone's blog sales. If someone find out you have bought RSS subscribers and not actual real readers, who can say what the true value of your blog really is?
BloggingFinger sold his blog for $6000, but did he buy these RSS subscribers? I bet not, I personally talk to Matt of Blogging Fingers and I doubt he has bout RSS subscribers to boost his sales. Ryan Shamus is another name associated with RSSXplosion, since he sold his blog as well. I also doubt their sales were because of this service.
A blog sale is determined by their readers and traffic; RSS play an important role in a website sale because they are loyal readers. But when increasing your feed count to just sell your blog at a higher value means your blog value is a piece of shit, because you do not have loyal readers. Instead of using this service, it is better to just Adobe your FeedBurner Image!
With some research from John Cow:
With a simple whois query we found out that a certain [email protected] (again, we hope you won't get spammed to death now! ) is responsible for this stupidity. Funny how Brian's domain points to a broken WordPress blog. Is that the type of 'quality' your losers customers can expect from you?
Reason Why this Service Sucks
Unethical
Fake Readers will not provide you income
Fake Traffic
Value of Blog is Poor
How long will your RSS Url be pinged?
These are pretty good and solid reasons why this service sucks. First of all this is very unethical which goes into fake traffic and fake readers. How will your blog flourish with fake readers that will not provide any value to your blog? Also how often will your feed be pinged to sustain a high value count?
Also say good buy to your blog sale, because the value of your blog is shit! Fake readers will not give any value to your blog. When Matt and Ryan sold their blog, it was due to their traffic and loyal readers. Their readers contributed to their value of their blog, the reason why they sold their blog for a good high price. Below is a screen shot of Matt and Ryan recent blog sale. The owner of RSSXplosion is using popular authors and bloggers to associate with this pathetic service. More screen shot below, again I doubt they will want to be associated with this service.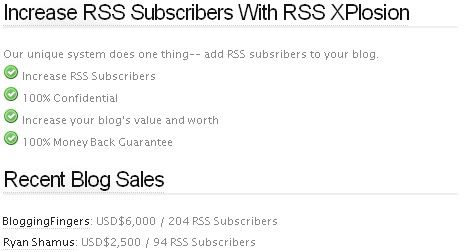 What is the Blogosphere coming to?
Just as the title states, where is the blogging world coming to? First BuyBlogComments and now RSSXplosion? Buying fake contributors to your blog that produces no value is just wrong. I can not stress how bad of an idea this is because their is no value in return maybe an increaese in RSS subscribers which you can show off, but just Adobe your damn Feed counter or take someone else's image. Though I still find that idea bad but it is better than buying readers!
Buying fake readers looks like it will be a problem within the blogosphere, because of these low value services. Our blogging community is becoming a realm for spammers for low quality fake readers. We post our ideas and opinions and we are being attacked. Blogging is a way to voice our opinions and spread news across the internet in different attitudes and language. These services such as BuyBlogComments and RSSXplosion are causing a serious issue within the blogging community.