Reading my RSS feeds came across John Chow mini review about OIOpublisher. After reading what it was all I about I immediately downloaded this plugin and configured it.
This great little plugin (for wordpress) cuts the middle man right out, if you are selling ad space on your blog or website. Text Link Ads and ReviewMe hit you with a fee for having that middle man. Well this great plugin gets rid of that middle man. You might think to yourself about the other sites that do this such as WordPress Bankroll and WP Text Ads, but you have to purchase these plugins while OIOpublisher is FREE! Crazy! Even John Chow speaks of WPText Ads and WordPress BankRoll:
OIOpublisher Direct is more than just a WordPress plugin. It's a total advertising solution. At least that's what it's trying to be. Whether or not they'll make it depends greatly on how fast they can penetrate the market. Unlike the WordPress BankRoll plugin which only does reviews, or the WP Text Ads which only does text links, the OIOpublisher Direct plugin offers the ability to directly sell reviews and text links (including contextual text links) on your blog. The free plugin pretty much puts the $127 WP Text Ads out of business.
What is OIOpublisher?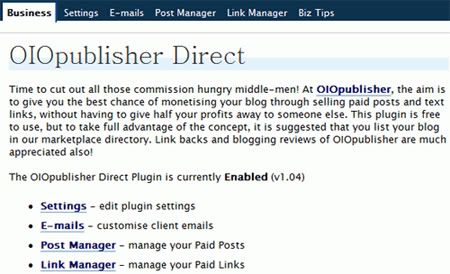 Sell paid reviews and links - the most flexible system around!
NO delayed payments, NO commission taken, NO red tape!
Lower costs mean you make more money than elsewhere!
Select your selling platform, and set your own prices!
Get personal with advertisers, through video profiles!
It's simply better than the competition - see why!
The great aspect of this plugin is that there is no middle man - so your commission is full price! If you have not gon to the why part of their website here is a small snippet why this plugin is so powerful:
Zero Commission Taken: it's that simple, for every sale you make, you get to keep 100% of the revenue. Many other networks take up to 50% commission per sale made. That adds up to quite a nice chunk of change you're missing out on!

More Sales Options: tired of only being able to sell reviews at one site, and links at another? With OIOpublisher you can sell whatever combination you choose. And if you'd like to sell something else, why not ask at the forum, and see we can't expand the options for you!

Instant Payments: if you belong to sites that pay you once a week, or even once a month, you'll understand that it can sometimes be frustrating. Since you're the one the payments go to when a purchase is made, there are no delays. When a purchase is made, the money is yours too!
Well I have installed this and I found it to be easy and very simple to install. There is a "Business" tab on your dashboard once installed. The only issue I had when installing is the PHP code for the non widget wordpress was hard to find but it was listed on the main Business Tab. After I found the PHP code I just simple paste it within my sidebar and it will do the rest!
Another aspect of this plugin is that there is a "test" feature. It lets you view links and how they may appear on your website or blog, without you really buying a link. Another test feature is it will let you "purchase" a link or post without really paying, but the link or post will not be show on your site, since it is a test.
It's New - BRAND NEW
Since this is a Brand new service, there is very little websites or blogs within their marketplace. In order for them to cope with this they are offering 1 month free listing to help grow their marketplace. You should submit your site right away once you download and install OIOpublisher, it's a free backlink! Why Not! There really is no listing as of now within their marketplace, but with their offerings they should grow quickly.
Text Link Ads/ReviewMe vs OIOpublisher
Since this is a young service, how will it compete to others? The only difference that I see is the marketplace is much bigger than of OIOpublisher. Also these other services connect the not so high traffic blogs to advertisers that are willing to pay 15$ for minimal traffic. Again since Simon's new project is a great idea, the connection with publishers and advertisers is weak. While the other networks connect and help the network grow and unite the weak blog with at least maybe 15$ a month.
Conclusion
There are so many aspects of this that I will be coming back to this for maybe a more in depth review, but OIOpublisher is very straight forward and require no Jedi Mind tricks to have it quickly working on your website. I do find that this plugin will be very popular since OIOpublisher will start to have a growing community and marketplace. Why would you want to give a middle man money, Simon found a great solution to this and will soon sonnect all blogs and sites to grab this great plugin. Download OIOpublisher and cut out that middle man!