So there is a lot of talk about Pay Per View traffic. I went a head and did some test. I wanted to wait for Mark's test on his bulk traffic, but he has been busy with other things. So I took matters into my own hands. I went ahead and bought bulk traffic or pop under traffic. I think this was a network and I kinda knew the basis of PPV. For example the term 'junk' traffic comes from networks, similar to banner exchanges or list building tier systems. The term PPV 'good' traffic is similar to PPC but in essences you bid on maybe sites or keywords base on meta tags of sites. <- (correct me if I am wrong)
So I decided to start with the traditional PPV bulk traffic. I bought 25,000 pop under traffic from this specific service. The service was ehh. I believe this service was part of several networks, in which I think I got crap traffic. No conversion out of 25k so called unique visitors.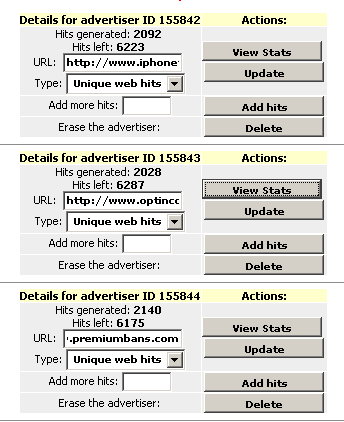 To the left you will see my stats. This a 2 day screen shot that I took for 3 of my profitable digital products that I have. So far I have generated over 1k of hits but no conversions from this.
Now another interesting point with this study is that after the traffic ran out, the next couple days my traffic simple just dropped. There was no continuation of traffic from past users or even link posted anywhere else.
Now the funny part is in Digital Point Forum, a member did an in-depth study of bulk traffic. I have talked about him previously and he has created great scripts and products in the past, Jonathan Leger.
He did a study and his results were very interesting. His results were very similar to mine and goes into more depth than I do. I simply just talked about how I get all these so called unique hits but no conversion.
Well here are Jonathan Leger's results. You can click on the service and it will give you a break down of how the traffic was organized. Very interesting and powerful information.
But this just showed that this type of traffic is trash. NOW true PPV where you bid on keyword relations or domains maybe a bit more powerful. I will be testing that soon. But these networks in which you join to exchange impressions are very poor. The reason for this is because the other person is also a marketer and knows he will not convert. Why do you think some network exchange systems do not work to its fullest.
What are your thoughts on the PPV and bulk traffic? Interesting to hear what you all have to say about it.
More PPV Traffic Case Study - Using MediaTraffic