Friday and I will be busy for the weekend. This week has been pissing me off - especially when trying to start promoting my new digital product and clickbank rejected my request. So as I have stated I have been reading on PayDotCom and using the $7 Secrets script.
I like the $7 Secrets script because it allows me to have a secure download page, an automated OTO page (one time offer), a squeeze page, etc! It is so simple and customizable. With paydotcom it is not so easy to do what I want. Well I have decided to go with paydotcom. Once it has been completed with my digital delivery system then I will annouce it - sometime next week.
I also started to secretly advertise my script and I have been getting crazy questions and requests for this script, especially from list builders. To my surprise I am actually amazed that it already had caught attention from other list builders. I will respond to them after I do a little more research on a specific topic they both brought up.
Here are somethings I found interesting or what I am going through this past week.
DealDotCom is Getting Desperate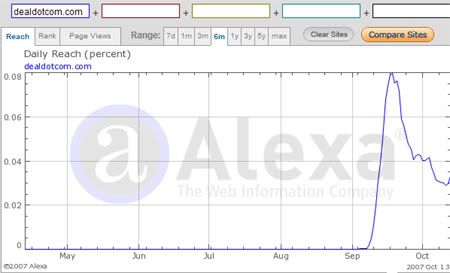 What an ugly graph! All that hype never seemed to become steady. Well at least they get a good amount of traffic still - but who are actually buying? Internet Marketing is so big on the internet every damn author has one - saying they have the secret!

Me personally, this blog is just my journey to what I am doing, I do not claim to be a guru. Well back to DDC - I found it interesting that they are putting up press releases per products, here is a search result on IMNewsWatch.com. Are they getting really desperate for traffic they can not sustain their hype anymore? They are going to press releases now to help promote and create a stir.

Though hype does die down after all the commotion, I still do not see a survival with DealDotCom, especially when most items can be found on the internet for free.

12 Month Internet Millionaire

I said I was going to do audio reviews, but I did not have the time - been doing so much things. I will try to get audio 3 and 4 next week sorry for the late notice and not updating as I should. So far what I think the audios are mostly about direct marketing and offline tactics, which some can be used for online but the main purpose of the audio is the entrepreneurship of Vince, he struggled failed and succeeded!

Well I will go ahead and hope to listen to the rest of the audio and I think I might be coming out with a report about it soon, maybe still deciding.

Myspace Deleted Me - Facebook Warned me

Back in the day I was making a pretty good amount on myspace, until Tom deleted my account without warning. My page was like a mini marketplace for digital ebooks and feeds.

It was doing very well, I had a great amount of friends that were targeted and surprisinly bought stuff on my page, which ended up in my paypal account. 🙂

Well I am trying a new advertising technique on Facebook and within an hour I got warned. BAH to Facebook. What I did is tested out their flyer system - I paid 10$ to use their flyer system, 5000 impressions. I actually got banned because of a specific word I stated in my description, not even a vulgar word. It is cool though, they kept my 10$ and my account is still live. You can read about Facebook Flyers in my New ebook: Facebook Advances.

They are haters in my book!

New Season - New Projects

I am also working with a friend of mine on creating a new site for the 'tis season' that is coming up. I have been wanting to use Mark's mashable script for Amazon, eBay, and YouTube.

This script looks great - as it is base on an affiliate system. No actual products! In the past when I first saw a Youtube Video on this, I was amaze - Mark from 45n5.com is a great entrepreneur. In the past I was looking for an Amazon script to use with my eBay feed script. But now Mark came up with a Web 2.0 version! The only thing I will change is the layout and the script format a little bit, but nothing big.

By the way here is Mark's Intro Video to the Script.

[youtube]http://www.youtube.com/watch?v=vlmqCnD_aVw[/youtube]

Delayed on my Other eBooks


I am making another ebook, it is a very small ebook - but has a great audience for it. I have all the things needed for the ebook package - but just finalizing it is me saying "I will get to it." It is a very small thing I have to do and it is done, but the reason it is a small task I would rather get my other big projects running.

I think I need to check my prioritization, with my projects and other ideas that jumble through my head.