I listened in to Rob Toth teleseminar and I think it was a useless teleseminar because the tactics that he is speaking about and selling are already in use and it is quite old. I have personally done all of his tactics that he has proposed in his new product and I have gotten results from these tactics. Good results may lead to bad things, such as annoyed readers.
If you can recall, I had a scroll bar at the top of my blog about my new revolution theme contest, grabbing the attention of many readers to participate. This has helped a lot with my contest and new traffic. I also received some emails about the annoyance of the bar. Luckily I only had it for 1 week, the week of the contest. Once I took it down the emails stopped.
Rob Toth, has the right concept and idea. Grab your readers' attention and try to offer a second chance sale to those that are not interested, maybe even upsell something to the buyer. His new product BuyNowWizard does all this and maybe even annoys the buyer or potential buyer.
Don Morris the new owner of the popular 7Dollar Script joined in this teleseminar, the audio on his end was very low and I did not really hear most of his conversation. I think the script that Rob is using is part of the 7Dollar Script. It has the same features and some characteristics to is, but Rob decided to add some other attention javascript to the file as well.
The whole teleseminar is all about getting that second chance and interacting with the potential buyer. There are several attention grabbers which Rob uses within his software, again I have done all of his tactics within BuyNowWizard and they do work, but incorporating them all at once or maybe use more than one? Here are the features which Rob Toth's new product uses:
Browser Warning Bar
The browser warning button can be found with Internet Explorer or FireFox. It is the traditional light yellow bar that floats on top of your page and provides you a warning. With this product you are able to create a warning to your reader.
That does grab the attention of your readers, luckily this does not follow you as you scroll through the content. Rob says we are naturally pulled to the warning bar because it is a warning bar. With his product you are able to change the text and insert links and even change color.
Pop Up on Exit Screen
This is not an old strategy as it was used many times before Rob's new product. There are multiple versions of this popup exit overlay. This is very good for giving your product another chance in being purchased or maybe even doing a case study on why they are leaving, as this screen shot below is doing.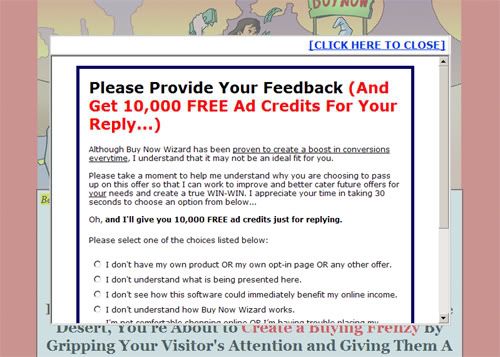 The uniqueness of this on exit popup overlay definitely captures the attention of your buyer; it sticks a warning sign right in front of them before they can leave your sales page. This is helpful to have the buyer optin to grab a free report or even view a video. This has done well and much better than on entrance popup overlays.
Limited Time Offer Count Down/Closing Deadlines
A simple counter that grabs the attention of your users by providing them the limited time they have before they are not able to purchase or grab your free report. This again is an old tactic but useful. MSN, Yahoo and many others use this tactic to run contest and competition to their readers. You have X amount of time before this special offer will end. Usually it will last for 1 week or maybe 30 seconds, it depends on the product and how long you want to provide the special offer.
You will tend to see fake timers that will count down from 60 seconds and at the end of 60 seconds you get a popup. Well I believe with this script you are able to control the closing deadlines and special offers, very powerful. But this is an old strategy yet it is still useful.
There are even scripts that provide the first X buyers get a discount, after X amount of buyers bought, the product is set back to its' original price.
Inventory Counter
Another powerful feature which is also old is an inventory counter. This is another great tactic to use. It tells the buyer 'If you are Serious, BUY NOW before it is all gone!' This was done in a very poor traditional way where a hard number was just implemented on the sales page, 67 left out of the original 100. It really was not a counter, but BuyNowWizard can do this, Don Morris 7Dollar Script does this as well, for $7!
This specific tactic is the most powerful for this script as Rob says. I believe it is powerful because it does work, even back in the day when marketers just put false numbers on their sales page and not an actual counter.
The inventory counter will only attract the most serious prospects and will make your potential buyers into buyers. It creates the sense of urgency to purchase the product before the actual product runs out.
The Total Annoyance
All tactics are very helpful and yes they do work. Now the only problem is incorporating all of these into once, it will get annoying. I have checked the report page Robs' BuyNowWizard and he incorporates 3 out of the 4 tactics that were described within his teleseminar.
I found the bar to be annoying with the on exit popup, because first that little bar caught my attention and I click on it and read what it had to provide to me. When I want to redirect away I got hit with the "WHY ARE YOU LEAVING?" on exit popup overlay. Super annoying, especially when I first saw that warning bar.
The warning bar caught my attention and I didn't even get to read the damn title of the sales page. The warning bar brought me directly to the optin page of the landing page, again I didn't have a chance to read the damn sales page.
Now at the bottom there was a time counter saying if you do not act now and grab this report for free, it will direct me to a page where I have to pay $9.97 for it. I actually waited for the timer to expire to see if it was a legit timer and not those timers that just count and it did re direct me to the order page of the free report. Well all I did was just hit the back button and counter restarted itself, now if it was cookie enabled that would be the best! (thats my Idea Rob!)
The only problem is his counter is at the bottom, I would imagine you are able to move the timer around where you want, because what if I never scroll all the way to the bottom, I stop mid way on the optin page and I never see the footer? I would never know about the counter.
Well, over all this little script catches the attention of the reader but will it annoy the readers or buyers? I know when I had my contest and I had the warning bar it did create an annoyance to some, but it converted well.
Do I use these tactics on my sales page, yes. But not all at once, because I too am a buyer and all of those scripts would definitely annoy me. Each an everyone of his scripts can be easily found and bought for free or under 7$ each. His system is for marketers that do not want to do that additional work (10 minutes), it is in one whole package for users to chose and change. Again, each of his tactics are all old and have been used and have been proven to work, but put them all in a basket may lead to annoyed readers. If you want to listen to the teleseminar I listened to you can do so here: BuyNowWizard with Don Morris and Rob Toth.