When I first started on the internet and learned about the many fields of internet marketing, I learned about Google PR, page rank. I read about it so much that my goal was to get at least a PR 1 within 2 weeks or a month. Well with my others sites I have done it within a month. But browsing through my email I read something very interesting from Jonathan Leger.
The subject read "Ian, Does PageRank really matter for ranking in Google?"
I silently answered to myself yes. To my knowledge PR is all about the 'weight' of a hyperlink. For example this blog has a Page Rank of 2. That means there are multiple links to this site from other sites, from other Page Rank sites. Each PR site is weighted against your site to give you your PR.
Wikipedia describes Page Rank as:
PageRank is a link analysis algorithm that assigns a numerical weighting to each element of a hyperlinked set of documents, such as the World Wide Web, with the purpose of "measuring" its relative importance within the set. The algorithm may be applied to any collection of entities with reciprocal quotations and references. The numerical weight that it assigns to any given element E is also called the PageRank of E and denoted by PR(E).
That is why there are many marketers out there that add their links to high PR directories in order to grab that PR weight to theirs. Many directories provide reciprocal linking, an exchange of links from one site to another. Both benefit.
Back to the email I received from Jonathan Leger.
PageRank has been all the rage since Google first introduced that little green line on the Google toolbar. Links are bought and sold at a premium based on how far that little green bar stretches to the right.

But is it really wise to pay a premium for links on high PageRank pages? Are sites with the highest PageRank the ones that are ranking better in Google?
According to his blog, he shows multiple examples of popular search topics and compare ranking from the searched. I will do one, as of this posting the search "blog marketing" pulled up 304 million searches. The first website has a PR of 4 while the 3rd website has a PR of 6! How does this work?
I stated PR is weighted links to a page. A person website can have high page rank pages point to a specific url (a domain) and get a good PR, or TONs of low PR site to point to the page to get a page rank. Google then determines the amount of links and the PR of those sites and provide you back with a PR for your website or blog. But here is my search term screenshot at the time of this post.
Screenshot below: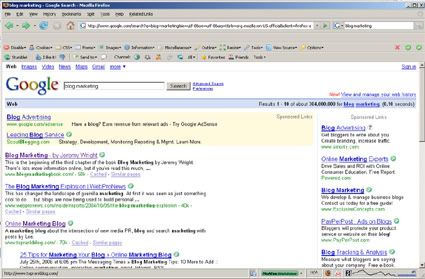 Wow, that is amazing! Google does not provide SERPs base on Google Page Rank! How can this be? It's pretty simple and its an old simple tactic - keyword optimization. My blog is base on keywords and the reason why my second blog became so popular and receiving traffic right away.
Jonathan says:
But you see, it's not the PageRank of a site or page that Google focuses on primarily when ranking a site for a set of keywords. It's the keywords that those links contain that is of the greatest value in Google's algorithm.
Keywords are what the search engines are looking for. When you search a topic it searches words, not how many links are pointing to a page. It just makes sense to the SERPs that it provides you with relevant information base on your search terms.
What is my decision on Google Page Rank? I have switched to looking at my traffic via Alexa while I concentrate on my keywords per post I write. I do care for my page rank, but is it really that important now a days? I think it is just because new users will read about page ranks and Google, so I think it is important. Once experienced they will learn all about keywords.