As you probably already know Yaro has been releasing his free ebook, the Blog Mastermind. I personally have downloaded the ebook and learned so much. Its 55 pages long with tips and tricks Yaro has learned while Blogging. I myself am on the road to full income by just blogging and doing what I love.
Scouring through my emails, I saw an email from Yaro which he would like to provide a sneak peak of his BlogMastermind Video. Here is a screenshot while I was watching the video.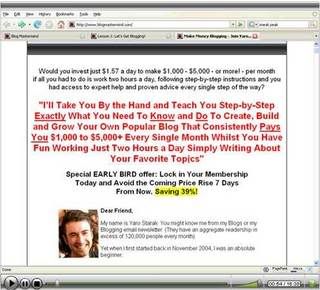 View the Video

This is a great opportunity to view what his Blog Program is all about. As I can tell you, personally I have learned already a lot from just his FREE eBook. You may know that I have done split testing, with trackback marketing and comment marketing. Which now I am becoming more consistent.

Viewing this video puts out there that you can earn a living online, from just blogging. Though I have 3 sites total I pay more attention to my blog, since its the one that has produce and converted more than the others. I am very excited when it comes to blogging and earning a living online!

Why Blog?

The blog online business opportunity is like no other entrepreneurial undertaking ever invented by mankind. It is amazing how it requires such little input and yet has the potential to yield such dizzying figures in online profits.Once a blog is enjoying sizable traffic, there are a host of online business affiliate opportunity ventures that the site owner can get involved with. Adsense for example is excellent because it helps to generate lost of cash from the content produced at the site. Adsense ads are served on member sites according to their relevance and based on the keyword phrases used in each individual post. Simply just monetizing your blog can generate you a great source of income, in which I recommend again for you to view Yaro Blog Mastermind Video.

If you have not read my prior post today, I advise you to read it as it provides a great resource on blogging for beginners.