ProfitSocial is a Smartlink platform that will help you effectively monetize your traffic. I have used their smartlink dating system in the past before. It has helped me find what dating niche and verticals work with my traffic sources.
If you're looking for a way to earn some extra bucks, you got it! ProfitSocial is glad to announce the opening of its traffic contest. All you have to do is send traffic to ProfitSocial's smartlinks and you could win up to a $5,000 bonus. That is a lot of moo-lah! This contest is till August 31st, so you have a lot of time to use their smartlink system.
What Is ProfitSocial?
We'll be discussing the details of this contest pretty soon but what is ProfitSocial anyway?
ProfitSocial is a SmartLink platform that specializes in automated algorithms to unite all top offers. Among the strongest vertical are dating along with its respective niches namely: Gay, BBW, Ebony, Asian, Milf, and Mature. Concurrently, you can promote other verticals such as sweepstakes, webcams, gambling, and games.
In this platform, you are standardly given a minimum threshold of $250. But if it were up to me, you better challenge yourself to meet $1,000 a week. That way, you will be able to switch to weekly payments instead of the typical per month commission.
Becoming a ProfitSocial affiliate gets better with time but they also have a bit of surprise for newbies. As a welcome gift to new affiliates, ProfitSocial will be giving you a welcome bonus. But you also need to prove that you are committed to becoming an active member of the platform. To receive the bonus, your spending for each first 3 months should exceed $3,000.
Send quality traffic. The more you do, the more cashback you will get. Here is the breakdown of your commission by percentage in you first three months in ProfitSocial:
1st month – 5%
2nd month – 8%
3rd month – 10%
ProfitSocial is only one out of dozens of other affiliate smartlink platforms on the web. But here is how this platform benefits you:
ProfitSocial has automatically optimized funnels
It has high conversion through direct offers on top locations and latest creatives
Regularly offers bonus deals to affiliates
You get to attend meetups across countries if you are a top affiliate
You can get rate increase through high-volume revenue and quality of company partners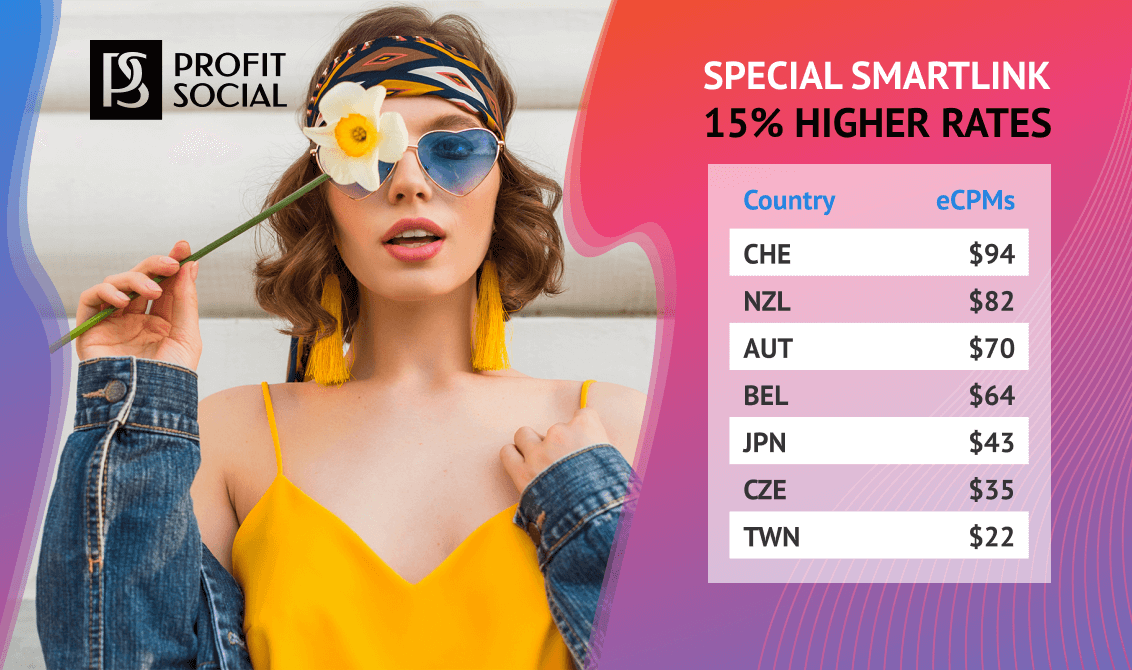 ProfitSocial Smartlink Contest
Now going back to their smartlink contest, let us talk about a couple of simple rules:
You need to be a ProfitSocial Affiliate
Should be able to drive as much traffic as possible to all GEOs
Validate the traffic quality with your personal affiliate manager
Get your bonus at the end of each month
If you are a new affiliate who had just claimed your welcome bonus, you won't be eligible for the SmartLink summer contest
DEU, AUT, ITA, CHE, BEL, KOR, ESP, TWN, and JPN GEOs give x1.5 the standard bonus amount
The bonus period is from May 1 to August 30
So, What If I Don't Perform As Well Compared To Other Affiliates?
Regardless of whether you are a ProfitSocial partner, a veteran affiliate, or a new one, you are guaranteed to receive a bonus. The amount of the bonus just depends on the monthly commission growth in comparison with the previous month and is calculated during the bonus period. Take a look at their bonus calculation grid below for your reference. Read the community discussion here.
BONUS CALCULATION GRID
| | |
| --- | --- |
| Commission growth (all GEOs except 'premium') | Bonus |
| $1,000 – $3,000 | $100 |
| $3,001 – $5,000 | $300 |
| $5,001 – $10,000 | $500 |
| $10,001 – $25,000 | $1,000 |
| $25,001 – $50,000 | $1,500 |
| $50,001 – $75,000 | $2,500 |
| $75,001 – $100,000 | $3,750 |
| At least $100,000 | $5,000 |
| For each further $100,000 | $5,000 |