Social marketing is important to everyone and even marketers but more importantly interaction. Today, was Barack Obama's inauguration and twitscoop shows a great interaction between such conversations that was happening on twitter.
The best part was CNN also sync Facebook with their live feed and millions logged on to view the inauguration live and logged into facebook to see what everyone was talking about. I got my fair share of responses to my facebook status updates via CNN live and to my twitter account.
Now, you can tell this creates conversation with others that are watching the inauguration and my current friends on Facebook. Now, this post is about syncing Twitter and Facebook and I just wanted to introduce the social aspect of facebook and twitter on today's inauguration.
As you can see the inauguration brought a lot of conversation: (timestamp: 1:28pm est)
This is just for twitter imagine the status updates from the CNN live and the conversations they were having. Syncing both service would be beneficial because you get more exposure from 2 big social networks.
Getting exposure and showing I am active helps increase brand and conversation. This is good to gain trust and better yet, to network. I was reading everyone's status on facebook via CNN live and I responded to some, while I got some responses of my own.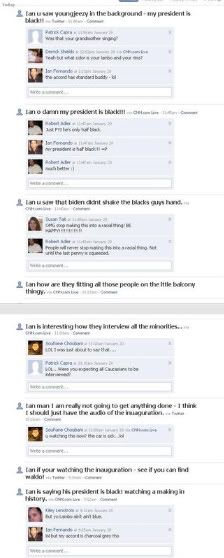 I recently just synced both my twitter account and facebook - so anything on twitter will update my status on facebook. Ever since I did this it has increased conversations with my facebook friends! It is amazing that interaction happens both on twitter and facebook.
If you click on the image to the far right you can see the conversations I was having with facebook friends about today's inauguratio, my friends participated in the conversation.
I was getting a better response on facebook than on twitter. So I was happy I actually sync my facebook with twitter.
So how do you sync twitter with facebook?
Get Twitter
Get Facebook
Sync with Facebook Twitter App
Done
That is really it. Everytime you tweet something it updates your facebook status. The thing is I have noticed it does not update when you respond to someone or begin your tweet with # or @.
It does not matter, since if I am responding to someone via twitter, facebook users do not need to know.
The only thing is facebook doesn't sync back to twitter, which is fine too since I doubt anyone will be on facebook 24 hours. I mean I have twitter on my iphone, other than that I am rarely on FB.
So getting more social in today's internet world is important. You want to be interactive and seen. Being more social is important to your brand as well since it brings in more trust. Being a ghost in today's marketing world does not make sense, unless you want to be a down low marketer - which is fine too.
I already definitely benefited by just syncing twitter with Facebook. There is far more interaction and far more diversity.