As you know Google does not like Text Link Ad Marketplaces at all, yet there is a business in Text Advertisements. First let us go into a little detail as to why people buy text link ads.
There is real estate in websites, blogs, ezines, directories etc, why not sell that space? The powerful Text Link Ads has done great with it, but with the total confusion with TLA, they maybe losing some respect.
Other reason why text link ad buying is popular because it provides more exposure pays the publisher more than adsense, additional traffic, can use affiliate links, etc. I have used these types of ads for advertising purposes and my results were ok. I would have expected more but it is all about trial and error.
But going forward, I was browsing my favorite forums and stumbled across a give away for 5,000 points which can be used to purchase free links. I was amaze at this and saw this would be a great opportunity to take in.
This is what caught my attention:
...today and get 2,000 points on your account absolutely free of charge as our "Thanks" for testing out the system (for 2000 points you can buy up to 2,000 links for 1 month! It is suggested to choose all regions in the "Geo-targeting" field)...
Who or what am I talking about?
TNX.net, as in "Thanks!" is a new text link ad marketplace with a very unique twist to it. This service definitely separates itself from other text link marketplace. TNX is fairly new but has already 30445200 links in the system with 13837 just created in the last hour! Now that is amazing - a brand new service is constantly growing on a daily basis and keeps growing!
How does the service work?
Here is a quick run down straight from their homepage:
Website Publisher
You'll be able to sell links on every page of your website, instead of just the main page.
Automatically sell links to thousands of advertisers.
Receive payouts every month in advance, via PayPal, Check, Wire, or any other applicable payment method.
Easy code installation using "copy-paste" method.
The price for each link is calculated automatically. It mostly depends on Google PageRank (PR) of each page, website category, link popularity, and number of outbound links.
TNX comission is just 12.5% from each party involved in transaction.
Our system is Secure and Confidential: No public list of users. All sales are automated.
Advertisers
Improve your site ranking in search engines such as Google, Yahoo!, Live.com and more.
Automatically place millions of non-reciprocal links to your site.
Your links will be placed on relevant pages (You'll be able to choose it's quantity and quality).
Receive well-targeted traffic from relevant sites.
Prices of links are the lowest on the market. For as low as $11 a month you may get up to 10,000 static links to your website.
Convenient interface which will help you promote thousands of your keywords and pages without a hassle.
SEO specialists and consultants get discounts up to 50%.
In addition to the above system, TNX works on a point base system - this is what makes TNX very different from 'everyone' else. This is great because a newbie marketer can sell website real estate even if they are a noob or a brand new person on the internet. Usually a person trying to make an immediate income from their website may want to start selling ad space. No one really will purchase space from a website that has no or very little traffic. This makes it very hard for a newbie to start selling and making income from his website but it makes life easier for the newbie if he participates in the TNX point system.
The point system is very creative. You can allocate all your points and sell them them to TNX for a paypal dollar equivalent. Meaning you can make money just gathering points and selling them to TNX. It is a twist on making money online. Publishers can even sell their points to other site owners, creating almost a trading post experience on TNX.net. I would suggests trading or selling with other webmasters. The reason for this TNX dollar amount may be very low for X amount of points, when you can sell the same amount of points to another site owner and get a greater return.
Well I have decided to join and its simple!

The registration was very simple - VERY basic information is required: password, name, and email! Simple. After registration I was brought to a web 2.0 interface, very clean and relaxed. The colors and contrast was very simplistic and yet it welcomes the user comfortably. It provides a relaxed environment and the interface is just so simple that you can easily navigate and know what your next steps are.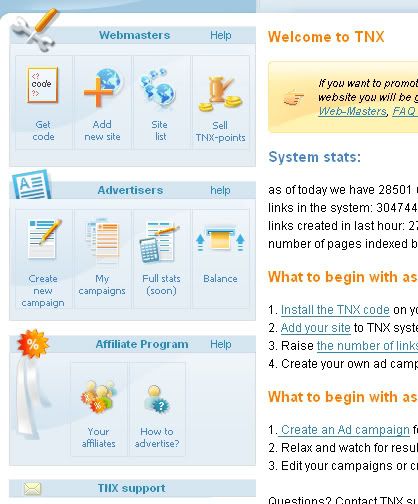 The sidebar provides clean cut navigation, it is your 'toolbox' to starting with TNX.net. As I have stated everything is done on your side bar, all the information you need to know is right there. Unlike Text Link Ads, you have to go through different categories and pages to get what you want. TNX, its just right there.
So the first thing or step is TNX.net has asked me to do is to install my TNX.net code. To my surprise the code was very lengthy. I do not know why. This can create a little confusion for the non HTML guy. The lengthy code can or maybe confuse someone who is creating a website for the first time and might remove something that is needed in the core webpage or even with the TNX static code.
I wonder if they are coming out with a WordPress plugin to simplify things a little, I mean everything so far on TNX.net is 'simple.' With so many users using wordpress as blogging CMS tool, it would make sense to create a plugin to satisfy and make it more manageable.
Snapshot of Code:
I literally had to scroll, but the unique thing with this code it only, it looks like it will only take 4 links. I guess it is to stop from using TNX as a link factory or link farm.
Which is good because so many blogs have over 10 featured links on their blog - and it takes away from the navigation of the site, not good.
This is perfect, as a blog will look like a blog and not a link dump. A website should be informative, providing useful information and easy navigation. Without these, a website can loose their users very easy. TNX solves this by simply just providing 4 links.
Just like any new service there is an affiliate system.
TNX.net affiliate program rewards users. They state:
Forget about the so called ref-links so hated by many! New technologies made them optional (although we also use them, for example, to attract partners through mailing lists or ICQ). Forget about minimal payments - we don't have such thing in our partner program!
When you reffer someone to TNX, you will receive a 13.3% of all TNX points. That is a great advantage because let us say you refer a webmaster to TNX and the advertiser pays 100 TNX points for a link on your referral's website, your referral gets 75 points and you get 10 points which is 12.3% of his income! There are no restrictions on what you can do with the referral system, its simple!
Though I do not understand a 13.3%, wonder why they did not have a solid 2 integer percentage like 14%?
I will be toying with this system and dig deeper into this. For my conclusion, TNX is using the KISS effect, everything is SIMPLE. The ease of use from the homepage to the user interface is simple enough a noob can figure things out. The point system is what separates this service from others and the interaction it creates with other users. A friendly environment with a useful and easy service. Finally, Text Links are Simple again and FUN!