As my competitors are creating their future tactics I think I might just put mine out in the open. This is a great way for my readers to know what I am providing first hand and if they want to participate if needed. Well, I posted the competition post late last night, exactly at 12:05 am the day when this RSS competition started.
This gave me a heads up prior to my competitors or my fellow bloggers. I didn't have time to think on what prizes to span out for the month of February because I will be out on the 23-27th for Affiliate Summit West 2008, this may give my other fellow bloggers an advantage.
So what am I doing that is unique from everyone's prizes? Well I know some are providing hard cash to get ahead of the game while others are offering ad space. So far I have offered a chance to win one of the premium templates, of course anyone who wrote a post about it will have a far better chance at winning one.
Blog Affiliate System
One unique thing about my blog is sharing my blog and income with other bloggers. My blog JV partnership system give you the chance to earn 65% of the commission from my blog! There are unique keywords with unique affiliate products. This is a first ever system to share my income with my fellow readers and for anyone that want to promote IanFernando.com. There are ClickBank Products, PayDotCom Products, and $7DollarOffer Products within this blog in which my readers can earn 65% of the earnings.
Another BEST part of this JV system is if someone downloads report, I will forward them to a product or your website of any choice and not interfere with commission if it is an affiliate product. My blog's affiliate system is definitely unique in its own. -> Sign Up Here
What about Prizes?
I have some good prizes I will hand out. Here are the prizes I wil be handing out!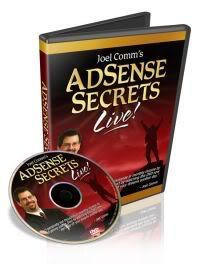 Joel Comm's Adsense Secrets will be given out! YES, as you know Joel Comm is best known author for the Adsense Code, spilling his beans and secrets about making money on line with Adsense.
There are multiple changes within Google Adsense, yet there are still people making money out there. This is a new DVD which I will provide to you for simply just subscribing to my Feed via email. (the only way I can track real readers)
This exclusive Live seminar of Joel speaking about his tactics on creating an Adsense empire. There are tactics that are spoken and told just from this DVD that others paid hundreds to view. But Subscribe and you get a chance at grabbing it for FREE!
This is a great oppurtunity for you to learn from Joel first hand as if he is speaking to you! You get to be in the front seat of his seminar. While others have paid hundreds to be in his seminar, you get the opportunity to win it for free!
Another great prize is what you see above! I am giving away a box set of the internet series "The Next Internet Millionaire". This includes all episodes from start to finish and has exclusive episodes and hidden episodes which was not aired on the internet. This will be a great way for you to learn some of the tactics from top 12 Internet Marketers ranging from Mike Filsaime to Mark Joyner. While many have paid thousands to spend time with some of these marketers, you get to have a sneak peek view of what the contestants are learning from these top marketers. In order to win this you have to subscribe to my feed via email as well.
These 2 prizes are very exclusive and I am awaiting one more confirmation from a ShareaSale agent to get a guestpass to anyone that will be going to affiliate summit west 2008. If this can be done then that will be another great prize I am giving out.
Any Tactics I am doing to beat the others?
Well a while ago I was working with Simon to create an adsense style advertising via feeds. Simon whom I have given the aka "Google Son" has created a great plugin called Feedvertising. This plugin installs a great adsense style feed ad to any post. If you would like to help me win, please install this plugin onto your wordpress platform and leave a comment below that you have done so and you can win a free ad spot on IanFernando.com, I am giving away 2 spots for 35 days!
These are the plans and prizes I have so far, so let us see how this turns out. I was not that much concentrated on RSS but now my competitors are pushing me to do so, this is a great push for me and learning experience.