So Google Adwords seemed to be a little slow for me and I decided to open my mind to other PPC Marketing engines. Yesterday, I decided to go ahead and try Yahoo! SM, Search Marketing. The process was fairly easy, with the exception of the deposit I had to put in. I had a coupon too and which did not go towards my deposit, WTF! The coupon was an additional 'bank' or fund into my account.
So anyways before I signed up I did a lot of reading first, I read all the FAQs at the pre sign up section of Y!SM. It provides great information about Y!SM and answered most of my questions. Without any hesitation I decided to go ahead and try it out, I signed up.
Within the first couple hours of signing up and getting familiarized with the dashboard I can tell you the dashboard and the way it is set up is very powerful and interesting, it is all Ajax (for the most part). Here is a snapshot of the main dashboard that greets you when you are logged in.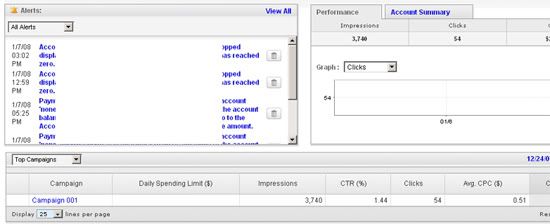 The dashboard has 3 sections which I really like about Y!SM. There is a notice box in the left hand and to the right is a visual graph of your clicks and earnings, for some reason my stats are delayed. I think the data is delayed by 24 hours or more?? The bottom lists all your campaigns and the stats about that specific campaign.
The interface is very clean and neat, again everything seems to be done with a Web 2.0 style and Ajax. It is very interactive and the response is quite fast. When I click on one of my campaigns it brings me to another elegant screen.
This is my campaign section; it displays your ad, graph, ad being displayed, and visual stats. One thing I like about this is the quality index. I can go into my keywords and sort by the quality score of my keywords and delete the keywords that are above a certain number, usually I delete anything above a 2.5. The reason for this is because I want my ad to be seen over everyone else's, the higher the score the better and likely it will be seen.
With Adwords quality score is dependent with a poor, bad, or ok. It really does not give you a lot of information. I like that I can sort it by numbers, I mean I use excel a lot and numbers mean a lot to me. =P
Also, the ads seem to have more properties than Google Adwords. I can have a bigger title and a longer context. Does this mean it is a good thing? I am use to creating short to the point headers with descriptive context, but I tried long headers and lengthy context. Let's see what happens. I think small straight to the point will win, I guess this is why split testing is done.
With Yahoo Search Marketing you are only limited to 500 keywords. I think that is great! I mean I use about less than 100 keywords; one of my campaigns is only using 20 right now (adwords). I think this is great for beginners, especially the ones that want to use about 1000 plus keywords.
The only downside, that I notice is you always need to have bank within the account. Y!SM bills your account base on the daily budget and a specific option you chose. The options I am talking about is the option to either bill monthly, continuously, and I believe it was daily. I started with continuous billing meaning, every time I run out of 'bank' it will fund my account before re displaying the ads.
Conclusion:
I think Y!SM is powerful and easy to use. I suggest beginners to use Yahoo Search Marketing over Adwords. The reason is because it is simple, straight to the point, and it is very visual. I think noobers will easily catch up on PPC and i's full definition. The whole system is very visual, giving a user the basic understanding of keywords and even understanding of CTRs and EPC. Y!SM has a very productive and very informative blog as well, it even has some basic strategies when creating ads.
For the next couple days I will play around with Yahoo Search Marketing and see if I will stay with it or work along side with Adwords. For the new year of 2008 I am looking towards new PPC Marketing strategies other than Adwords. I recently saw Zac Johnson introducing his affiliate guide within Microsoft AdCenter. I will be reading that and maybe next week play around with AdCenter and see what they have to help me with my marketing.