"Your Build a Niche Store is SOOOO Recognizable, NO ONE WANTS TO PURCHASE ANYTHING. Find Out How Altering your Design Can Mean Thousands More in Your Pocket!"
You have purchase a Build a Niche Store Script or BANS for short and are now making some money from your stores. The income being produced from your virtual stores are not sufficient enough to even get you a cup of coffee in the morning! You try to test different color designs, different layouts included in the script, different niches from eBay - BUT NOTHING IS WORKING!
Within the Build a Niche Store script you have the option of pre selecting from 9 pre made templates within the Build a Niche Store Admin. These specific templates are easy to customize and perfect for new beginners such as your self. You launch your site and you are now making some money from your store. You are over excited because you are making a couple dollars here and there. You do more testing but your income slumps!
Build a Niche Store is the best thing that has ever happened to you and even the internet! What if I said there is a flaw with the script? There was an error in the production of the script itself? There was a malfunction in every niche from eBay's every category? What if I said you are losing money from every visitor that visits your site? Would you have still purchase the script? Would have still promote your store/s?
There is one huge problem with the script and it stops potential buyers from continuing to purchase or even click on your eBay feed link. This specific problem is everywhere with every niche but can be overcome. With the Build a Niche Store it is over saturated, no one wants to buy from any Build a Niche Store, eBay is actually losing money because of this script!
What if I told you the error can be easily fixed, the niche you are in can be easily taken over, the money can be flowing more rapidly into your pocket? What would you think?
The Problem:
Build a Niche Stores are everywhere, it is such a powerful script everyone can now open up their own store and have millions of merchants selling on their store with no problem. They take care of the shipping, the transaction, the delivery of the item, etc. We simply provide a virtual window to those potential buyers. The biggest issue with this powerful script is the repetitive layouts throughout the internet! The problem with this is potential buyers does not get aroused enough to continue to your store because it is so noticeable. SOOO noticeable that buyers just click away from your store, not even giving your store a chance of a click!
You spend all your time promoting and maybe even paying hundreds of dollars to just make a couple dollars. All the time you put into marketing your new store becomes wasted time. You now do not know if your store will succeed with the vast majority of stores out there.
The Staff at Build a Niche Store Did Not Think of how Viral their Script Became! Now, the shopping/e commerce industry on the internet is over saturated!
The problem with these store all over the internet is they all look a like. A user is only given 9 pre made templates, which is obviously being used by someone and somewhere else. What if a person does not understand any coding, they are stuck with the dull grey scale layout.
Let us take a look at some Build a Niche Stores users have created: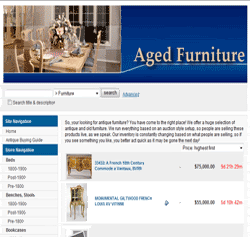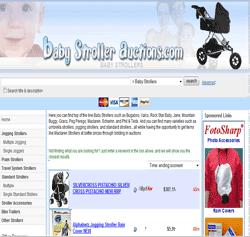 As you can see the basic concept is the same, as well as the design. The concept will always be the same and boring, since Build a Niche Store is running base on an eBay feed BUT the design and feel can be easily changed to assure the buyer/s.
The Solution:
What if we can give you a brand new store that DOES NOT LOOK like all the other Build a Niche Stores? What if we change and alter the code just a little bit to look more like a professional store? What if we can change the total look and feel to automatically feel it has a brand of its own? What if we can create a Build a Nice Store that does not look like a Build a Niche Store?!
The problem is in the design and repetitive templates which is repeated throughout the internet. Repetition on the internet is bad, especially for internet surfers and buyers. If at any chance a buyer thinks something feels 'funny' they leave without hesitation. This means a lost sale and you lose money!
Fixing this saturated problem is simple, we need to be different from the rest of the Build a Niche Community. Now I will show you 2 new sites that are using the Build a Niche Store system, let me know if you can tell if it is a Build a Niche Store Script from the above rest.
Can you see the live excitement with just these 2 templates? It draws away from the lousy feeling of the other 4 Build a Niche Store Templates. The feeling of JUST these two templates will encourage your buyers to purchase because it has the feeling of brand, the organization is simplified but sophisticated at the same time. You can quickly sense the difference of the templates and your potential buyers will feel the same as well.
Your Next Move:
The cure in your Build a Niche Store is just being different especially in web design and template organization. Being different is the key to your success. All you have to do is open up the files in notepad and re organize the code. Go to your Build a Niche Store admin and rearrange your style sheet. You then can go to the template wizard and organize the code as well. You need to make sure your DIV tables are in sync with the style sheets of you store.
I DO NOT KNOW WHAT YOU ARE TALKING ABOUT!
I understand coding and designing may not be your strongest point. Which is why I am here today to offer you 3 detailed unique designs for your Build a Niche Store. You have previewed and seen the 2 above. I am also including a third template for your store, so the bundle package comes with 3 unique designs! These premium templates are geared to:
Increase the Brand of your Build a Niche Store
Give the Secure Feeling and Excitement upon entering your Store
Allowing you to ad Banners without the Feeling of being 'Blasted'
Allowing a trust between you and your potential buyer/s
The Organized Feeling and Neatness of the links and layouts
Being Different from Everyone else who has a Build a Niche Store!
... and Many More!
Each of these 3 designs has the uniqueness and sense of urge to help your buyer attain the trust of your website. You certainly DON'T want to lose potential sales simply due to the lousy-looking designs you use for your store. The bottom-line is that your prospects are seeing your virtual store at a glance, and it takes only 5 seconds for your prospect to either stay or turn away.
The benefits of owning such unique templates for your Build Niche Store:
Do not need to spend lot of money to hire designer to designer these templates which cost you at least $250!
Build the perceived value of your store where by having a good quality graphics implied that you will have a good quality store and service.
No wasted Time - Just upload and change your template!
These 3 templates will out shine among your Build a Niche Store users. Think about it they are still using the low quality grey scale layouts. There is no color or design what so ever with their templates. Sure they can upload a logo, but what is the point if it does not even match your whole theme? The re design of your Build a Niche Store means a big difference in your wallet and means a big difference to your buyers!
Ian, but I see all these BANS Template designers. You are right they do have template designers dedicated to the Build a Niche System, but all they are doing is changing the colors and not the look and feel of the layout. These HTML guys are taking you for granted, they simple change a couple line of code, pretend it took them 3 days to do it and you pay for the SAME STRUCTURE LAYOUT but different colors of the background and hover links. They are just stealing your money.
With these specific premium templates your WHOLE Build a Niche Store is totally different from everyone else! We did not change the color or move a couple line of code, we re designed the whole layout and structure to give you a more unique taste! I bought the Build a Niche Store script to create more income, but when I saw the flaw and it's popularity around the internet I wanted to make sure I stuck out from everyone else. It took me several days to re write the code and now you can have your own in several minutes! You do not have to learn CSS, XHTML, HTML, Javascript, etc - just download, upload, chose template and you are done!
With the growth of Build a Niche Stores on the internet these days, it pays to be different and unique. With these 3 premium templates you can not go wrong with the style and catchy freshness of the design. You will be proud to have downloaded these 3 premium templates and your buyers will be too! Put more money in your pocket and stop scaring your prospects!
---
I understand I will be instantly downloading 3 Premium Build a Niche Store Templates. I also understand these templates will help me gather more buyers and not lose prospects when used with my Build a Niche Store Templates!
I also know that the $67 $37 I am paying today will save me thousands of dollars in the time and web designers over the long run. I will be short cutting years of trial and error by taking up on this offer.
I also know that I have nothing to lose. You are generous enough to give me a FULL REFUND if I am not satisfied with an 30 Day period.