This is crazy let me just say that. This is way bigger and has a lot of more people in the exhibit hall and at the keynote. Ad-Tech is geared towards digital marketing since we are slowly growing towards the digital age. I have taken some pictures on my phone, so if you have been following me via Twitter, you will have probably seen them. The better pictures will be uploaded this weekend or so.
Monday there were parties already starting up, a pre-game party before ad-tech. I decided to take that time and meet up with Wes Mahler and look at campaigns and show me how scaling works and how he scales vs how I can improve the way I scale. Also, I have met up with Bob, Ms. Danielle, and John Chow. John Chow is a funny and entertaining guy, he started throwing footballs into the exhibit hall, you will see the videos soon on his blog.
I have also met up with my affiliate managers that had booths. I went out to lunch with CPA Empire and some affiliates. It was a great tiring day. The keynote was a great experience as well. The return of the Kodak Moment!!
Well, here are some pictures I took from my cell phone, make sure to follow me on twitter for more pictures. Also apologize for my typing/grammar.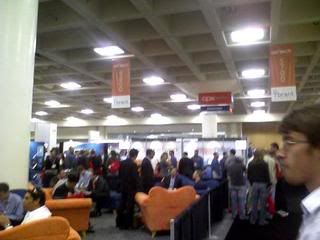 More and better pictures to come!